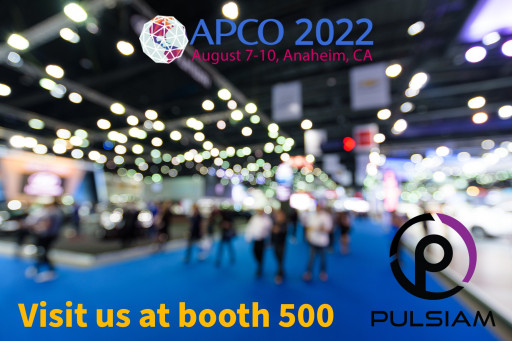 Pulsiam will attend the APCO 2022 Conference and Expo at the Anaheim Convention Center in Anaheim,CA, August 9-11, 2022.
Newswire.com
)
Pulsiam's presence at this event is a testament to our commitment to continuing to provide forward-thinking software solutions to support our users who are on the front lines, saving lives and keeping our communities safe. 
This year, you can pay Pulsiam a visit at booth 500.
APCO 2022 is one of the premier conferences and expos for public safety communication officials. 
"APCO is an event we look forward to every year. Engagement with everyday heroes, sharing our innovative solutions and joining discussions with other industry thought leaders. We're grateful to APCO for producing an event to share our knowledge and expertise with others." says Holly Blanks, Pulsiam's Director of Global Business Development. 
About Pulsiam:
Pulsiam has been a pillar of the public safety and security industry for more than 35 years, and our scalable, reliable products support over 100 million people.
We pride ourselves on long-term relationships with our clients (some lasting over 30 years); innovative solutions leveraging emerging technologies; the multiple free enhancements to our products that we provide each year; partnerships with industry leaders such as ESRI, Motorola, and Avaya; and unparalleled 24x7x365 support.
We are the primary incident management vendor for the majority of the country of Mexico and are committed to expanding our presence in Latin America, Europe, Asia, Africa, and the Middle East.
Press Release Service by
Newswire.com
Original Source:
Pulsiam to Attend APCO 2022