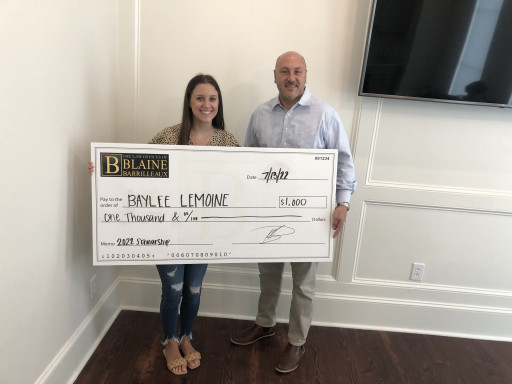 Rising freshman wins this year's Blaine Barrilleaux Scholarship and plans to pursue a career helping others
LAFAYETTE, La. - August 31, 2022 - (
Newswire.com
)
Every year, Lafayette personal injury attorney Blaine Barrilleaux offers a $1,000 scholarship to one bright high school or college student pursuing enrollment or currently enrolled in a Louisiana university. This year, applicants wrote a response to the question: Why do you believe ongoing education is important?
A number of students entered, and The Law Offices of Blaine Barrilleaux is pleased to announce the chosen winner: rising freshman Baylee Lemoine.
Baylee Lemoine Wins This Year's Blaine Barrilleaux Scholarship
Baylee Lemoine is about to begin her freshman year at the University of Louisiana at Lafayette, where she plans to attend nursing school. Her career goal is to become a nurse practitioner with a specialization in women's health, and she intends to put this scholarship toward the textbooks she will need to pursue this dream.
Baylee was ecstatic to hear she'd been selected as the winner of the 2022 Blaine Barrilleaux Scholarship. The first thing she did was share the good news with her mom, who is her greatest supporter and inspiration.
When asked what difference she wants to make in the world through her chosen career path, Baylee said she wants to help others struggling through difficult times. This desire was influenced by her mother. Baylee often hears stories of the women who visit the gynecology office where her mother works and the challenges they face. 
Hearing these stories has motivated her to become someone these women can turn to for support in hard times. 
"Seeing people get past their struggles makes me happy," Baylee said. 
Like Blaine, Baylee is a Louisiana native through and through. She was born and raised in the Pelican State, and the southern hospitality and cajun-creole food are just a couple of reasons why she's delighted to attend college close to home.
Learn More About The Law Offices of Blaine Barrilleaux
Blaine Barrilleaux is a Lafayette personal injury attorney with nearly twenty-five years of experience representing victims of car wrecks, big truck accidents, dog bites, off-shore injuries, medical malpractice, and more. Not only does Blaine have a long history of serving his community through his work, but he's also spent his entire life in the area. Born and raised in Louisiana, he continues to raise his own family in Lafayette. 
Blaine's love for his community is why he's so dedicated to giving back to people both through the Blaine Barrilleaux Scholarship, as well as the important work of his law firm. If you or a loved one has been injured in an accident, contact Blaine today for a free case evaluation.
Press Release Service by
Newswire.com
Original Source:
Lafayette Personal Injury Attorney Selects 2022 Scholarship Recipient