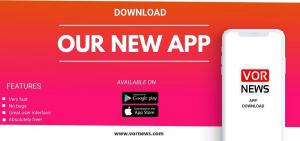 GIBSONS, BC, CANADA, September 24, 2023 /EINPresswire.com/ — VORNews official application is now downloadable, making accessing all our great content easier. Readers get everything you've come to expect from the news and lifestyle website but with the convenience of quick and easy access on your mobile or tablet. Even when you're offline.
Catch breaking news first with the VORNews app. The new app covers everything from across the Kingdom and beyond. Readers will be alerted as soon as our stories break with the latest news, videos, commentaries, features, weather reports, finance, etc.
VORNews is a popular online news portal that covers a wide range of topics, including local news, international news, business, sports, entertainment, and lifestyle. The site was launched in 2020 and has become one of the most popular news sources, with a large and engaged audience.
VORNews has become known for its independent and unbiased reporting and willingness to cover sensitive issues that other media outlets often ignore. The site has won several awards for its journalism, including the Best Online News Portal award in 2023.
One of the key features of VORNews is its focus on local news and events in Thailand. The site has a dedicated team of reporters and correspondents covering news from nationwide, including political developments, social issues, and cultural events. This focus on local news has helped to make
VORNews is a trusted source of information and those interested in the country's culture and society. In addition to its local coverage, VORNews provides in-depth analysis and reporting on international news and events. The site has a team of experienced foreign correspondents who cover news from around the world, providing readers with a global perspective on current affairs.
One of the unique features of VORNews is its commitment to providing readers with diverse perspectives and opinions. The site regularly publishes articles and opinion pieces from various contributors, including academics, analysts, and activists. This approach helps ensure readers are exposed to various viewpoints on key issues and encourages them to engage in critical thinking and discussion.
Another key feature of VORNews is its use of multimedia to tell stories and convey information. The site regularly features videos, photo essays, and interactive graphics, providing readers with a more immersive and engaging news experience. This multimedia use also helps make VORNews more accessible to younger audiences, who may prefer visual and interactive forms of content.
VORNews has also embraced social media and digital technologies to reach new audiences and engage with readers. VORNews has active accounts on social media platforms such as Facebook, Twitter, and Instagram, where it shares news updates, articles, and multimedia content with its followers.
VORNews also offers a mobile app, which allows readers to access news and information on the go.
Despite its success, VORNews faces several challenges as a media outlet. The government has passed several laws in recent years that restrict freedom of expression and limit the ability of media outlets to report on sensitive issues. This has led to concerns about the safety and security of journalists and other media workers in the country.
In addition to these legal challenges, VORNews faces competition from many online news portals and social media influencers. These new players are often able to produce content more quickly and efficiently than traditional media outlets and may be more adept at engaging with younger audiences.
VORNews is a CTNNews Media Company
Geoff Thomas
VORNews a CTN News Media Company
+1 604-628-6569
email us here
Article originally published on www.einpresswire.com as VOR News Launches New News App for 2023