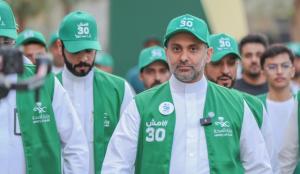 Saudi Minister of Health #Walk30
Largest community sports event launched by Saudi Health to promote daily 30-minute walks
RIYADH, SAUDI ARABIA, November 12, 2023 /EINPresswire.com/ — National health initiative #walk30 achieved a wide reception when thousands gathered Saturday in the capital Riyadh, to join Saudi Minister of Health Fahd Aljalajel for a 30-minute walk accompanied by officials, celebrities, and public figures.
Saudi Health pointed out that the #walk30 initiative includes a range of diverse activities, including a self-test that measures the individual's level of walking practice and provides scientific tips for planning the daily routine, a field study that assessed the state of walking practice among the population; in addition to launching a competition to continue walking 8,000 steps a day through the SEHATY application.
Through the initiative, Saudi Health seeks to raise the quality-of-life standards by promoting a sustainable healthy lifestyle, of which walking is a must, as studies have proven that regular physical activity prevents the risk of heart disease by about 35% and protects against diabetes by up to 58%.
Contact
Ministry of Health
[email protected]
Article originally published on www.einpresswire.com as Thousands of Saudis walk the talk in the #walk30 initiative