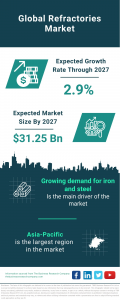 Refractories Global Market Report 2023 – Market Size, Trends, And Global Forecast 2023-2032
The Business Research Company's Refractories Global Market Report 2023 – Market Size, Trends, And Global Forecast 2023-2032
The refractories market is expected to grow to $31.25 billion in 2027 at a CAGR of 2.9%."
— The Business Research Company
LANDON, GREATER LANDON, UK, November 9, 2023 /EINPresswire.com/ — The global refractories market has experienced a modest yet consistent growth trajectory, expanding from $26.55 billion in 2022 to $27.91 billion in 2023, at a compound annual growth rate (CAGR) of 5.1%. Despite the challenges posed by the Russia-Ukraine conflict and the persistent impact of the COVID-19 pandemic, the market is anticipated to continue its upward momentum, reaching $31.25 billion by 2027, with a CAGR of 2.9%.
Driving Force: Growing Demand for Iron and Steel
The significant growth in the refractories market can be attributed to the surging demand for iron and steel, primarily driven by the expansion of infrastructure development and the thriving automobile and railway industries. The increasing need for energy-efficient steel-making techniques has further propelled the demand for refractories. These vital lining materials play a crucial role in the furnace working interfaces and backup zones during the manufacturing of iron and steel. According to the India Brand Equity Foundation (IBEF), steel consumption is anticipated to surge by 17% to 110 million tonnes in FY22, owing to the intensified construction activities. Hence, the mounting demand for steel and iron has become a pivotal factor driving the refractories market.
Notable Trend: Technological Advancement
In the refractory market, technological advancement has emerged as a notable trend. Artificial intelligence (AI) and machine learning (ML) techniques have been integrated into the production of refractories to enhance efficiency. Data gathered from in-situ analysis, including images and other relevant information, are fed into ML models. These models offer valuable insights that enable companies to make precise predictions regarding the optimal operational conditions for achieving the desired product, be it steel, glass, or cement. Notably, RHI Magnesita, an Austria-based supplier of refractory products, systems, and services, has leveraged AI to assimilate insights from production data. Its Automated Process Optimization (APO) system collects comprehensive data on specific manufacturing processes, facilitating accurate predictions regarding the maintenance and replacement of refractory materials.
To delve deeper into the intricacies of the global refractories market and explore key growth opportunities, access the detailed sample report here:
Key Segments and Key Players in the Refractories Market
The global refractories market is segmented based on the following criteria:
1. Form: Shaped Refractories, Unshaped Refractories
2. Alkalinity: Acidic and Neutral, Basic
3. Refractory Mineral: Bauxite, Alumina, Kaolin, Magnesia, Graphite, Zircon
4. End-Use Industry: Iron and Steel, Power Generation, Non-Ferrous Metals, Cement, Glass, Other End-Users
Prominent players contributing to the growth of the refractories market include RHI Magnesita, Morgan Advanced Materials, Shinagawa Refractories, Saint-Gobain, Chosun Refractories, Harbisonwalker International, Imerys, Krosaki Harima Corporation, Magnezit Group, Refratechnik, Corning Incorporated, IFGL Refractories Ltd., Resco Products Inc., INTOCAST AG, Puyang Refractories Group Co Ltd., Calderys Refractories Limited, Qinghua Refractories, IFGL Refractories Limited, Carboundum Universal Limited, and Coorstek Inc.
Geographical Insights
In 2022, the Asia-Pacific region emerged as the dominant market for refractories. The analysis encompasses a comprehensive evaluation of key regions, including Asia-Pacific, Western Europe, Eastern Europe, North America, South America, the Middle East, and Africa.
Key Market Analysis and Complete Report Links
For a comprehensive analysis of the global refractories market, including in-depth insights and detailed market trends, access the complete report here:
Refractories Global Market Report 2023 from TBRC covers the following information:
1. Market size date for the forecast period: Historical and Future
3. Market analysis by region: Asia-Pacific, China, Western Europe, Eastern Europe, North America, USA, South America, Middle East and Africa.
4. Market analysis by countries: Australia, Brazil, China, France, Germany, India, Indonesia, Japan, Russia, South Korea, UK, USA.
Trends, opportunities, strategies and so much more.
The Refractories Global Market Report 2023 by The Business Research Company is the most comprehensive report that provides insights on refractories market size, refractories market drivers and trends, refractories market major players, refractories market competitors' revenues, market positioning, and refractories market growth across geographies. The refractories market report helps you gain in-depth insights on opportunities and strategies. Companies can leverage the data in the report and tap into segments with the highest growth potential.
Browse Through More Similar Reports By The Business Research Company:
Clay Products And Refractories Global Market Report 2023
Siding Global Market Report 2023
Ceramics Global Market Report 2023
About The Business Research Company
The Business Research Company has published over 3000+ detailed industry reports, spanning over 3000+ market segments and 60 geographies. The reports draw on 1,500,000 datasets, extensive secondary research, and exclusive insights from interviews with industry leaders.
Global Market Model – Market Intelligence Database
The Global Market Model, The Business Research Company's flagship product, is a market intelligence platform covering various macroeconomic indicators and metrics across 60 geographies and 27 industries. The Global Market Model covers multi-layered datasets that help its users assess supply-demand gaps.
Contact Information
The Business Research Company
Europe: +44 207 1930 708
Asia: +91 8897263534
Americas: +1 315 623 0293
Email: [email protected]
Check out our:
LinkedIn:
Twitter:
Facebook:
YouTube:
Blog:
Healthcare Blog:
Global Market Model: https://www.thebusinessresearchcompany.com/global-market-model
Oliver Guirdham
The Business Research Company
20 7193 0708
[email protected]
Visit us on social media:
Facebook
Twitter
LinkedIn
Hoverboard Scooter Market Growth Forecast 2023-2027


Article originally published on www.einpresswire.com as Steady Growth in Global Refractories Market to Reach $31.25B by 2027, Driven by Demand for Iron and Steel