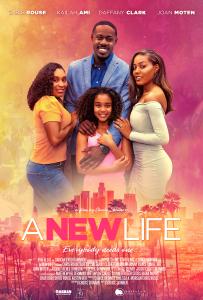 A NEW LIFE, a film by Choice Skinner premiering August 11, 2023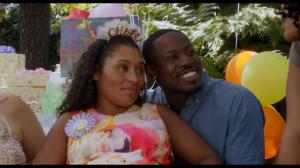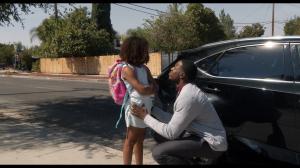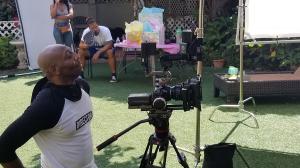 Filmmaker Choice Skinner on-set of his new romantic dramedy A NEW LIFE
LOS ANGELES, CA, UNITED STATES, August 11, 2023/EINPresswire.com/ — New romantic dramedy feature film, A NEW LIFE, premieres a moving story of family, love, and new beginnings with its North American TVOD release today, August 11, 2023, on Amazon Prime, and all major digital platforms.
A NEW LIFE comes from award-winning filmmaker Choice Skinner (Wingman Inc., Black Lightning Tobias' Revenge) and follows Ronald Ferguson, a devoted father who reluctantly enters back into the dating scene with the help of his young daughter, Briana. It's been six years since the untimely passing of his wife Stephanie, when a parent-teacher meeting at his daughter's school introduces Ronald to Serena, an enchanting teacher who captivates him instantly. Despite their strong attraction towards each other, Ronald struggles with severe emotional barriers due to the loss of Stephanie, making it difficult for him to open himself up to Serena and new love.
The film stars Chris Rouse (The Wrong Valentine) as Ronald and Daffany McGaray Clark (John Henry, Fosters) as Stephanie, along with key roles from Kyndra Mack (A Rose In Concrete), Danny Joo (All American), Danny Royce (NCIS), Joan Moten (Maggie) and Kailah Ami, making her acting debut alongside NFL star Josh Butler.
Looking to tell a story showcasing Black men through another lens, Skinner explains "Black men are multi-faceted and so much more than what is often shown in current media. I hope this film will entertain audiences, but also help change the narrative by offering a different perspective of black men today."
Skinner wrote, directed, edited and produced the project under his Darkan Entertainment banner, which he formed in 2010, an independent film and media production company dedicated to creating high-quality film, television, and media content with a strong focus on redemptive and empowering themes, expressly related to the Black community.
A Brooklyn native, Skinner first gained attention as a filmmaker for his award-winning dramatic short Brotherly Love, followed by winning Octavia Spencer's Facebook Short Film Competition with his short A Second Thought. He went on to direct his first full length feature film, Wingman, Inc., teaming with writer-producer Tony Germinario.
Skinner began his entertainment career as an actor and has amassed numerous credits including the TV shows All American, The District, How I Met Your Mother, The Shield, and Lost, as well as the films Killjoy 2 Delierance From Evil, Black Magic, Cryptz, Transylmania, and Free Samples starring Jessie Eisenberg and Jason Ritter. Currently, Skinner is in development on the feature horror film The Legend Of Ciscero.
Available TVOD Beginning August 11, 2023 on Amazon Prime and other major digital platforms.
Watch the Trailer for A NEW LIFE at: https://youtu.be/6eRWbaLVMyU

Follow on Instagram: @anewlifefilm and Facebook: /anewlifefilm
For more about CHOICE SKINNER and A NEW LIFE visit: DarkanEnt.com
Tammy Lynn
Spotlight PR Company
+1 310-867-1952
[email protected]
Official Trailer for A NEW LIFE, a film by Choice Skinner
Article originally published on www.einpresswire.com as Romantic Dramedy Feature 'A NEW LIFE' from Award-Winning Filmmaker Choice Skinner Premieres On-Demand August 11, 2023