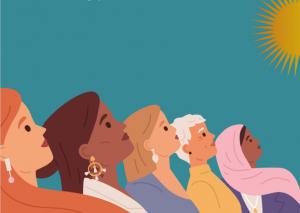 GEM 2022/2023 Women's Entrepreneurship Report – Challenging Bias and Stereotypes
There is a significant gender gap in established business ownership, according to the GEM 2022/2023 Women's Entrepreneurship Report.
LONDON, UNITED KINGDOM, November 14, 2023 /EINPresswire.com/ — There is a significant gender gap in established business ownership, defined as managing a running business for more than 42 months. Nearly one in every three entrepreneurs running established businesses is a woman. For start-up activity, there are .80 women for every 1 man. Globally, women were more likely than men to be solopreneurs (1.47 women solopreneurs for every 1 man). These were among the findings presented in the new GEM 2022/2023 Women's Entrepreneurship report, entitled Challenging Bias and Stereotypes.
Globally, one in six women reported an intention to start a business in the near future. The highest entrepreneurial intention rates were observed in low-income countries, where approximately 28% of women expressed intentions to start a business.
The report noted that one in ten women entrepreneurs globally were in the earliest stages of starting a business. Women's startup rates were particularly high in low-income countries and Latin America & Caribbean. Women represent one in four high-growth entrepreneurs globally, with higher proportions in low-income countries and North America.
The GEM global authorship team – consisting of seven academics located around the world – noted the following in the report: "More attention needs to be given to women who are starting and growing high growth, high innovation and large market businesses. Stereotypes that frame women entrepreneurs as a disadvantaged group feed a false narrative that women lack the same competency as men regarding business leadership."
"Women entrepreneurs play an important role in driving economic growth and advancing social development," said GEM Executive Director Aileen Ionescu-Somers. "However, women are also over-represented among the smallest businesses in highly competitive, low-margin markets and industries. They face inequality in the home, carrying a heavier burden of family responsibilities, which contributes to increased economic dependence and decreased interpersonal power and privilege."
Other Key Findings

The report presents a trend analysis of women's entrepreneurship across 49 countries, 5 global regions and 3 national income levels. It is based on interviews with some 175,000 individuals.
The report revealed that on average, women entrepreneurs tend to be younger than men, particularly in low-income countries. They are generally more educated than men, with higher levels of graduate education. However, women entrepreneurs are more likely to report lower household income segments.
GEM research for the period revealed that about four out of five entrepreneurs globally reported that they consider social and environmental sustainability in business decisions, women just slightly more often than men. Women entrepreneurs were also more likely to report prioritizing sustainability over economic business goals than men.

Despite low UN Sustainable Development Goals awareness, about half of women entrepreneurs reported taking steps to maximize the social impact of their businesses and about four fifths had taken steps to minimize the environmental impact of their business over the past year.
Recommendations

In addition to supporting high-potential women entrepreneurs, other key recommendations in this report are:

1. Understand the importance of segmentation for designing effective programmes for women entrepreneurs. More analysis of gender differences within specific sectors and segments is needed to control for the inevitable influence of gendered structural differences in entrepreneurial activity rates.
2. Support digitalization costs and access to technology for women entrepreneurs. Digitalization comes with some extra challenges in terms of both cost and access for small businesses, especially in the context of the gender digital divide and implications for markets in emerging economies and rural areas.
3. Celebrate sustainability. Governments can provide incentives in procurement processes that benefit women-led firms that place sustainability practices at the center of their business strategy.
"To best support women entrepreneurs, we must look beyond mere statistics, such as business registration numbers, and take into account the motivations and aspirations that are specific to women entrepreneurs," said José Ernesto Amorós, Chair of the Global Entrepreneurship Research Association, the governing body of GEM. "This report is a valuable resource for policymakers, educators, researchers, and all stakeholders interested in fostering a more inclusive and supportive environment for women entrepreneurs."
The report is a result of the collective efforts of GEM National Teams. The authorship team consists of:

– Amanda Elam, PhD, Babson College, GEM Global (lead author)

– Karen D. Hughes, PhD, University of Alberta and DIRI Fellow, GEM Canada

– Mahsa Samsami, PhD, University of Agder, GEM South Africa

– Fatima Boutaleb, PhD, Hassan II University of Casablanca-Morocco, GEM Morocco

– Natanya Meyer, University of Johannesburg, GEM South Africa

– Abdullah Mohammed Alshukaili, University of Nizwa, GEM Oman

– Ulrike Guelich, Bangkok University, GEM Thailand

The report is sponsored by Cartier Women's Initiative (CWI), the Frank & Eileen™ Center for Women's Entrepreneurial Leadership (F&E CWEL) at Babson College, the School of Management (HEG-FR) in Fribourg, Switzerland and the Women Entrepreneurs Finance Initiative (We-Fi, housed in the World Bank Group).
More Information

To explore future collaboration possibilities with GEM, contact GEM Executive Director Aileen Ionescu-Somers ([email protected]).
If you are a journalist and would like to interview a GEM representative, contact Kevin Anselmo (Tel: +1 919 260 0035 / [email protected]).
About GEM

Global Entrepreneurship Monitor (GEM) is a consortium of national country teams, primarily associated with top academic institutions, that carries out survey-based research on entrepreneurship around the world. GEM is the only global research source that collects data on entrepreneurship directly from individual entrepreneurs! GEM's Adult Population Survey (APS) provides analysis on the characteristics, motivations and ambitions of individuals starting businesses, as well as social attitudes towards entrepreneurship. The National Expert Survey (NES) looks at the national context in which individuals start businesses. www.gemconsortium.org
In numbers, GEM is:
– 24 years of data

– 150,000+ interviews a year

– 120+ economies

– 370+ specialists in entrepreneurship research

– 150+ academic and research institutions

– 150+ funding institutions
GEM began in 1999 as a joint project between Babson College (USA) and London Business School (UK). The consortium has become the richest resource of information on entrepreneurship, publishing a range of global, national and 'special topic' reports on an annual basis.
Kevin Anselmo
Global Entrepreneurship Monitor
+1 919-260-0035
[email protected]
GEM 2022/2023 Women's Entrepreneurship Report – Launch Webinar Recording
Article originally published on www.einpresswire.com as New GEM Women's Entrepreneurship Report Underscores Breaking Stereotypes and Seizing Opportunities