Creating Lifelong Readers at the Manila International Book Fair: Cherice and Cameron Dive into a World of Stories ?✨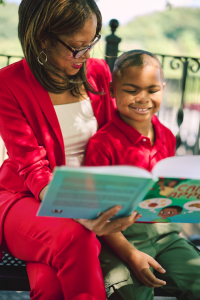 In this heartwarming snapshot, Cherice and her son Cameron share a moment of literary bonding at the Manila International Book Fair, immersed in the magic of storytelling. #FamilyReading #ManilaBookFairDiscovery
Cherice proudly holds 'Seeds of Faith,' a beloved literary masterpiece, while unveiling her latest work, 'Candy Apples,' at the Manila International Book Fair. Her passion for storytelling shines through her cherished creations. :#AuthorSpotlight #ManilaBookFairPreview
Manila International Book Fair Presents: Cherice TyRhonda Peagler's "Candy Apples" – A Tale of Integrity and Inspiration
LYNCHBURG, VIRGINIA, USA, September 15, 2023/EINPresswire.com/ — The highly anticipated Manila International Book Fair, scheduled from September 14 to 17, 2023, at the SMX Convention Center in Manila, Philippines, is set to feature a remarkable narrative that resonates with the virtues of honesty, integrity, and the value of delayed gratification—Cherice TyRhonda Peagler's "Candy Apples."
In "Candy Apples," readers are invited into a compelling world where the protagonist, Cameron, faces a challenging dilemma presented by his friends, a situation that appears to contradict the principles he holds dear. Cameron is given the opportunity to carefully weigh the options before him, contemplating the potential rewards and consequences tied to each choice. This story serves as an invaluable resource for parents, guardians, and mentors, equipping them with a toolkit of thought-provoking questions to engage in meaningful discussions with children. The aim is to nurture the development of an essential character trait—integrity.
Through this engaging narrative, children are presented with a vivid illustration of a real-life scenario where they must make a positive decision, even in the face of peer influence, alongside a trustworthy adult figure. "Candy Apples" sets out to spark constructive dialogues between adults and children, fostering an awareness of the significance of cultivating positive character traits. This literary work not only suggests questions to facilitate healthy decision-making but also stands as an accessible tool for older children seeking personal character growth. Moreover, it offers a unique opportunity for guardians or mentors to share this enriching experience by reading together, strengthening their bond, and spending quality time in the process.
Cherice TyRhonda Peagler, a dedicated mental health counselor and a loving mother to her six-year-old son, finds profound fulfillment in her profession. Her work in the counseling field allows her to guide individuals through life's trials, celebrate moments of joy, and equip them with the essential tools to pursue a fulfilling life—one marked by good health, happiness, balance, and productivity.
Cherice's motivation is deeply rooted in the profound influence of her son, who was just three years old when "Candy Apples" was written. Observing her child's growth and development fuels her determination to foster emotional equilibrium, even in the face of life's formidable challenges. Her passion lies in assisting parents and their children, providing them with valuable resources to enhance their problem-solving skills, navigate conflicts constructively, and cultivate a healthy circle of influence. Cherice is driven by the vision of empowering families to lead emotionally balanced and harmonious lives.

Don't miss the opportunity to explore Cherice TyRhonda Peagler's "Candy Apples" and engage in meaningful conversations about integrity and character development at the Manila International Book Fair from September 14 to 17, 2023, at the SMX Convention Center in Manila, Philippines.
For more details about Cherice TyRhonda Peagler, click the link below to visit her website

https://chericetpeagler.com/

Here are some videos from Cherice Peagler:

https://vimeo.com/852744857

https://www.youtube.com/watch?v=DqzB5QPBxXM

https://www.youtube.com/watch?v=gFkw9Tsz4uA

https://www.youtube.com/watch?v=CAPCMA7dH3A
To purchase his book from Amazon, you may click the link below:
Cherice TyRhonda Peagler
Glasslink Solutions
email us here
+1 888-457-2570
TV Interview of Cherice TyRhonda Peagler with Logan Crawford
Article originally published on www.einpresswire.com as Manila International Book Fair Shines a Spotlight on Cherice TyRhonda Peagler's Inspirational Tale, "Candy Apples"