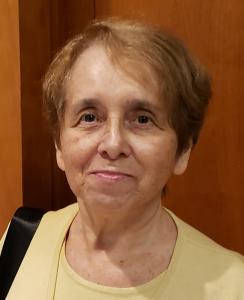 Unlock the Secrets of Fluent Communication and Cultural Integration
UNITED STATES, November 9, 2023 /EINPresswire.com/ — Milena Kunin Portney, a seasoned linguist, ESL teacher, and translator, is excited to announce the release of her latest book, "Have Fun: Learn to Speak and Understand American English." Geared towards learners of English as a Second Language (ESL) residing in the United States, this book is a comprehensive guide to bridge the gap between basic language skills and fluency in American English.
In "Have Fun: Learn to Speak and Understand American English," Milena Kunin Portney offers a unique approach to mastering the intricacies of the English language. The book addresses a range of grammatical, lexical, and stylistic challenges, and, with the aid of some tutoring, equips readers with the tools they need to navigate and thrive in the American environment. The target audience for this book comprises individuals who have been exposed to American English in their daily lives and may have attended ESL or Basic Literacy classes but still find it challenging to converse and comprehend English fluently. Regardless of their diverse educational backgrounds and language exposure, Ms. Portney has identified common gaps in their knowledge that hinder further language acquisition.
Milena Kunin Portney's expertise in linguistics, coupled with her passion for teaching and language translation, makes her the ideal author for this book. She is a certified interpreter and translator of English, Russian, and Ukrainian. Her diverse background in European languages has provided her with a unique perspective on language learning and teaching methods. Ms. Portney's personal interests in creative writing, yoga, classical music, and history have all played a part in shaping her approach to teaching American English.
When asked about her motivation for writing the book, Ms. Portney stated, "My linguistic discoveries and desire to share them with those who struggle with learning and living in the American surrounding. An effort to make the process of learning exciting and rewarding for students."
"Have Fun: Learn to Speak and Understand American English" carries a primary message that learning English can be an enjoyable and rewarding experience. Milena Kunin Portney encourages readers to relish every small discovery, reinforcing the idea that perseverance is key to success in language acquisition.
Readers will find this book not only instructive but also engaging and enjoyable. "Have Fun: Learn to Speak and Understand American English" is a valuable resource for ESL learners seeking to enhance their language skills and confidently navigate the American environment.
Atticus Publishing LLC
Atticus Publishing LLC
+1 888-800-1803
email us here
Milena Portney on The Spotlight Network TV with Logan Crawford.
Article originally published on www.einpresswire.com as Learn to Speak and Understand American English" by Milena Kunin Portney