John McGuire VFAF endorsement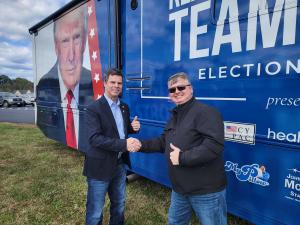 John McGuire with VFAF Ambassador Jared Craig during the John Fredericks Trump bus tour
Veterans for America First AKA Veterans for Trump endorse John McGuire , former Navy Seal . running for Virginia's 5th district against incumbent Bob Good
Delegate John McGuire has supported Trump since he came down the escalator and he will put the people of VA First"
— Vlad Lemets, Combat Veteran and VFAF Founding Member
RICHMOND, VIRGINIA, USA, November 19, 2023 /EINPresswire.com/ — From the press room of L-Strategies – The official press of Veterans for Trump grassroots national
John McGuire running for congress in Virginia's 5th district against incumbent Bob Good has been endorsed by the national Veterans Group ; Veterans for America First, better known as Veterans for Trump.
McGuire has been a Virginia State Delegate since 2018 He was first elected in 2017, and represents the 56th district comprising areas to the North and West of Richmond, Virginia. McGuire is a former United States Navy SEAL. Overcoming severe injuries McGuire founded a physical training business, SEAL Team Physical Training, that has been employed by Virginia Commonwealth University sports teams.
For more information about John McGuire visit https://virginiageneralassembly.gov/house/members/members.php?id=H0300
"At VFAF when we endorse against an incumbent member we explain why we are doing that" said president Stan Fitzgerald. In this case we will pull Marjorie Greenes quote from Politico as she says it best : "Bob Good took Trump's endorsement, ran on his name, ran on his policies and got elected. He also took all the fundraising that Kevin McCarthy worked hard to give him, happily took that money. Then he turns his back on everybody and stabs people in the back and the front," said Rep. Marjorie Taylor Greene (R-Ga.) https://www.politico.com/live-updates/2023/11/03/congress/good-challenger-00125250
In other VFAF News :
The Veterans group is focusing on America First politics and is considered to have a powerful primary endorsement : https://fox59.com/business/press-releases/ein-presswire/645012264/the-powerful-primary-endorsement-from-veterans-for-trump-and-veterans-for-america-first/
VFAF Veterans for America First AKA Veterans for Trump was invited as part of the grass roots campaign to Mar-A-Lago in November 2022 for Donald Trump's announcement of his run for 47th president. The former president shared the endorsement of VFAF for his bid on the Truth Social Platform along with the article stating the organization was part of the grassroots campaign collation
https://truthsocial.com/@realDon…/posts/109429493455546669
The Veterans group is partnered with Legacy PAC , a political action committee committed to preserving the Legacy of President Trump and promoting America First candidates. Stan Fitzgerald , Jared Craig , Mark Finchem , Kelli Ward and Martha Boneta Fain are on the Legacy PAC Team.
https://fox59.com/business/press-releases/ein-presswire/643301334/legacy-pac-commences-fundraising-efforts-led-by-mark-finchem-to-help-elect-the-next-generation-of-conservative-leaders/
Stan Fitzgerald
L-Strategies LLC
+1 770-707-6291
email us here
Visit us on social media:
Facebook
John McGuire for congress (VA5) endorsement interview with VFAF Veterans for Trump Stan Fitzgerald
Article originally published on www.einpresswire.com as John McGuire for congress (VA5) endorsed by VFAF Veterans for Trump announced Stan Fitzgerald national president