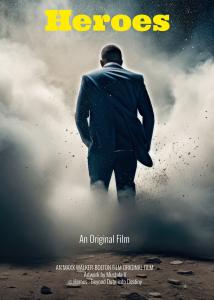 Extraordinary Lives of Ordinary Champions: A Journey from Everyday to Exceptional.
ATLANTA, GEORGIA, UNITED STATES, November 8, 2023 /EINPresswire.com/ — In the realm of the ordinary, there lies the potential for the extraordinary. This is the compelling premise of the upcoming cinematic endeavor "Heroes: Beyond Duty, into Destiny," brought to life by visionary producer and screenwriter Maxx Walker-Bolton.
"The narrative of life is punctuated by moments that transform the mundane into the monumental. 'Heroes: Beyond Duty, into Destiny' is dedicated to this transformation, celebrating the unnoticed champions walking among us," expresses Walker-Bolton, the creative dynamo at the heart of the project.
Set against the vibrant backdrops of Georgia and Alabama, "Heroes: Beyond Duty, into Destiny" is scheduled for production in 2024. The project promises a rich, emotive journey, paying homage to those who inadvertently step onto the path of heroism, their ordinary lives intertwining with a larger, extraordinary tapestry.
Regarding potential crowdfunding avenues, Walker-Bolton adopts a principled stance, observing the broader societal challenges. "We traverse a landscape of shared struggles, making it imprudent to seek financial backing under these circumstances. God brought me this far and he will see me the rest of the way," he asserts.
The production encourages audiences to become part of this storytelling odyssey, inviting them to glean insights and follow the project's progress on its website.
Amidst whispers of casting choices, the identities of those portraying pivotal characters – Herbert, Kumi, and David – remain an enticing enigma. "The unveiling is itself a narrative arc, adding to the allure we're meticulously crafting with 'Heroes: Beyond Duty, into Destiny,'" Walker-Bolton teases, building anticipation.
Complementing the narrative's development, Walker-Bolton commits to unveiling the ensemble behind the scenes in due course, hinting at potential revelations and unexpected facets of the production phase.
As "Heroes: Beyond Duty, into Destiny" gears up for its 2024 initiation, it promises not just a visual spectacle but a narrative that resonates. It champions the undervalued, the underrepresented, and the unsuspected heroes, urging audiences to recognize the same potential within themselves and others.
Maxx Walker-Bolton
Heroes The Movie
email us here
Visit us on social media:
Facebook
Twitter
Instagram


Article originally published on www.einpresswire.com as "Heroes: Beyond Duty, into Destiny"