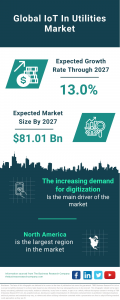 IoT in Utilities Global Market Report 2023 : Market Size, Trends, And Global Forecast 2023-2032
The Business Research Company's IoT in Utilities Global Market Report 2023 – Market Size, Trends, And Global Forecast 2023-2032
The Global Market Report for 2023 on IoT in Utilities by The Business Research Company provides information on market size, trends, and a global forecast extending from 2023 to 2032."
— The Business Research Company
LONDON, GREATER LONDON, UK, November 17, 2023 /EINPresswire.com/ — The global IoT in utilities market, estimated at $43.86 billion in 2022, is expected to expand to $49.68 billion in 2023, registering a notable compound annual growth rate (CAGR) of 13.3%. Despite the challenges posed by the Russia-Ukraine conflict and the lingering effects of the COVID-19 pandemic, the market is anticipated to reach a significant valuation of $81.01 billion by 2027. This growth is attributed to the increasing demand for digitization in the utility sector, fostering efficiency and enhancing customer engagement.
Rising Demand for Digitization Drives Market Growth
The mounting demand for digitization in the IoT in utilities market is playing a crucial role in propelling market expansion. Leveraging digital tools for comprehensive monitoring and optimization of physical infrastructure, along with streamlined automation to enhance workforce safety and efficiency, has become pivotal. The integration of distributed systems with advanced grid digital technology has further strengthened the case for digitization. Notably, the utility sector has witnessed significant improvements, including reduced operating expenses and substantial performance gains, driven by the implementation of digitization technology.
Explore comprehensive insights into the global IoT in utilities market with a detailed sample report:
Leading Players and Notable Trends
Key players such as International Business Machines Corporation, Oracle Corporation, and Cisco Systems Inc., among others, are actively involved in integrating new technologies to gain a competitive edge in the market. For instance, the Dubai Electricity and Water Authority (DEWA) launched a 6U nanosatellite in March 2022 equipped with high-resolution image sensing technology tailored to communicate with IoT terminals, aiming to detect thermal anomalies in energy and water networks for improved operational efficiency.
Segments:
• Component: Platform, Solutions, Services, Other Components
• Technology: Sensors, RFID, Connectivity Technology
• Application: Electricity Grid Management, Gas Management, Water and Waste Management, Other Applications
Geographical Insights: North America Leads the Market
North America, holding the largest share in the IoT in utilities market in 2022, continues to exhibit robust growth and innovation. The Asia-Pacific region is expected to emerge as the fastest-growing market during the forecast period, presenting significant opportunities for market expansion and development.
To gain comprehensive insights into regional dynamics, emerging market trends, and growth prospects, access the complete report:
IoT In Utilities Global Market Report 2023 from TBRC covers the following information:
• Market size date for the forecast period: Historical and Future
• Market analysis by region: Asia-Pacific, China, Western Europe, Eastern Europe, North America, USA, South America, Middle East and Africa.
• Market analysis by countries: Australia, Brazil, China, France, Germany, India, Indonesia, Japan, Russia, South Korea, UK, USA.
Trends, opportunities, strategies and so much more.
The IoT In Utilities Global Market Report 2023 by The Business Research Company is the most comprehensive report that provides insights on IoT In utilities market size, IoT In utilities market drivers and trends, IoT In utilities market major players, IoT In utilities market competitors' revenues, IoT In utilities market positioning, and IoT In utilities market growth across geographies. The IoT In utilities market report helps you gain in-depth insights on opportunities and strategies. Companies can leverage the data in the report and tap into segments with the highest growth potential.
Browse Through More Similar Reports By The Business Research Company:
Internet of Things (IoT) Node and Gateway Global Market Report 2023
IoT Engineering Services Global Market Report 2023
IoT In Public Safety Global Market Report 2023
About The Business Research Company
The Business Research Company has published over 3000+ detailed industry reports, spanning over 3000+ market segments and 60 geographies. The reports draw on 1,500,000 datasets, extensive secondary research, and exclusive insights from interviews with industry leaders.
Global Market Model – Market Intelligence Database
The Global Market Model, The Business Research Company's flagship product, is a market intelligence platform covering various macroeconomic indicators and metrics across 60 geographies and 27 industries. The Global Market Model covers multi-layered datasets that help its users assess supply-demand gaps.
Contact Information
The Business Research Company
Europe: +44 207 1930 708
Asia: +91 8897263534
Americas: +1 315 623 0293
Email: [email protected]
Check out our:
LinkedIn:
Twitter:
Facebook:
YouTube:
Blog:
Healthcare Blog:
Global Market Model:
Oliver Guirdham
The Business Research Company
+44 20 7193 0708
[email protected]
Visit us on social media:
Facebook
Twitter
LinkedIn
Ransomware Protection Market Growth Forecast 2023-2027


Article originally published on www.einpresswire.com as Global IoT in Utilities Market to Witness Substantial Growth, Predicted to Reach $81.01 Billion by 2027