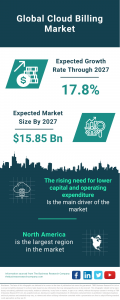 Cloud Billing Global Market Report 2023 – Market Size, Trends, And Global Forecast 2023-2032
The Business Research Company's Cloud Billing Global Market Report 2023 – Market Size, Trends, And Global Forecast 2023-2032
The market size of the global cloud billing industry is expected to grow to $15.85 billion in 2027 at a CAGR of 17.8%."
— The Business Research Company
LONDON, GREATER LONDON, UK, November 8, 2023 /EINPresswire.com/ — The global cloud billing market is expected to demonstrate robust growth, with an anticipated increase from $7.01 billion in 2022 to $8.24 billion in 2023, marking a commendable Compound Annual Growth Rate (CAGR) of 17.5%. Despite the adverse impact of the Russia-Ukraine conflict and the persisting challenges arising from the COVID-19 pandemic, the market is poised to achieve substantial expansion, with a projected value of $15.85 billion by 2027. This growth is attributed to the growing demand for cost efficiency, as businesses increasingly seek to optimize capital and operational expenditure while enhancing their customer service offerings through streamlined cloud billing solutions.
Rising Demand for Cost Efficiency Drives Market Growth
The escalating need for reduced capital and operating expenditure stands as a key driver propelling the growth of the cloud billing market in the foreseeable future. With the adoption of cloud technology, billing processes have evolved from standalone back-office functions to integral components of the quote-to-cash cycle. Cloud billing solutions enable businesses to realize cost savings while concurrently enabling them to deliver superior customer service experiences.
Explore the global cloud billing market with a comprehensive sample report:
Key Players and Technological Advancements
Major industry players, including Aria System Inc., Amdocs Inc., and Oracle Corporation, are at the forefront of driving technological advancements in the cloud billing domain, striving to develop innovative solutions that bolster business growth and operational efficiencies. The market segmentation, spanning various types, deployment models, organization sizes, applications, and industry verticals, reflects the dynamic nature of the cloud billing market, characterized by ongoing advancements in technology and a relentless focus on delivering tailored solutions to meet the evolving demands of businesses worldwide.
Segments:
• Type: Subscription Billing, Metered Billing, Cloud Service Billing, Provisioning, Other Types
• Deployment Type: Private Cloud, Public Cloud
• Organization Size: Large Enterprises, SMEs
• Application: Account Management, Revenue Management, Customer Management, Other Applications
• Vertical: BFSI, Telecommunications And ITES, Consumer Goods And Retail, Healthcare and life sciences, Other Verticals
Innovations in Technology Pave the Way for Market Advancements
The relentless focus on technological advancements remains a key trend shaping the trajectory of the cloud billing market, with industry leaders committed to pioneering cutting-edge solutions that drive business growth and enable seamless revenue management. Notably, the launch of Salesforce's Revenue Cloud in November 2020 represents a significant stride in the evolution of multi-cloud billing technology, empowering companies to efficiently monitor and manage the entire revenue lifecycle within a unified platform. This innovative solution amalgamates Salesforce's existing suite of partner relationship management, CPQ and Billing, and B2B commerce solutions, delivering a comprehensive solution to meet the complex billing needs of contemporary businesses.
Access the complete report for comprehensive insights into the global cloud billing market:
Diverse Market Dynamics Across Global Regions
While North America emerged as the largest region in the cloud billing market in 2022, the Asia-Pacific region is projected to register the fastest growth during the forecast period. This diverse market landscape across different global regions underscores the dynamic opportunities and evolving trends within the cloud billing domain, fostering an environment conducive to innovation, technological advancement, and sustained market expansion.
Cloud Billing Global Market Report 2023 from TBRC covers the following information:
• Market size date for the forecast period: Historical and Future
• Market analysis by region: Asia-Pacific, China, Western Europe, Eastern Europe, North America, USA, South America, Middle East and Africa.
• Market analysis by countries: Australia, Brazil, China, France, Germany, India, Indonesia, Japan, Russia, South Korea, UK, USA.
Trends, opportunities, strategies and so much more.
The Cloud Billing Global Market Report 2023 by The Business Research Company is the most comprehensive report that provides insights on cloud billing market size, cloud billing market drivers and trends, cloud billing market major players, cloud billing market competitors' revenues, cloud billing market positioning, and cloud billing market growth across geographies. The cloud billing market report helps you gain in-depth insights on opportunities and strategies. Companies can leverage the data in the report and tap into segments with the highest growth potential.
Browse Through More Similar Reports By The Business Research Company:
Cloud Management Platform Global Market Report 2023
Cloud-Based ITSM Global Market Report 2023
https://www.thebusinessresearchcompany.com/report/cloud-based-itsm-global-market-report
Cloud Services Brokerage Global Market Report 2023
About The Business Research Company
The Business Research Company has published over 3000+ detailed industry reports, spanning over 3000+ market segments and 60 geographies. The reports draw on 1,500,000 datasets, extensive secondary research, and exclusive insights from interviews with industry leaders.
Global Market Model – Market Intelligence Database
The Global Market Model, The Business Research Company's flagship product, is a market intelligence platform covering various macroeconomic indicators and metrics across 60 geographies and 27 industries. The Global Market Model covers multi-layered datasets that help its users assess supply-demand gaps.
Contact Information
The Business Research Company
Europe: +44 207 1930 708
Asia: +91 8897263534
Americas: +1 315 623 0293
Email: [email protected]
Check out our:
LinkedIn:
Twitter:
Facebook:
YouTube:
Blog:
Healthcare Blog:
Global Market Model:
Oliver Guirdham
The Business Research Company
+44 20 7193 0708
[email protected]
Visit us on social media:
Facebook
Twitter
LinkedIn
YouTube
Sports Market Growth Forecast 2023-2027


Article originally published on www.einpresswire.com as Global Cloud Billing Market Set to Expand Significantly, Estimated to Reach $15.85 Billion by 2027