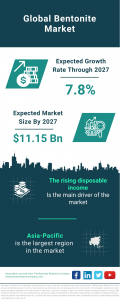 Bentonite Global Market Report 2023 – Market Size, Trends, And Global Forecast 2023-2032
The Business Research Company's Bentonite Global Market Report 2023 – Market Size, Trends, And Global Forecast 2023-2032
The market size of bentonite is expected to grow from $11.15 billion in 2027 at a CAGR of 7.8%."
— The Business Research Company
LANDON, GREATER LANDON, UK, November 15, 2023 /EINPresswire.com/ — The global bentonite market is set to experience substantial growth, with the market size expected to increase from $7.45 billion in 2022 to $8.27 billion in 2023, reflecting a robust compound annual growth rate (CAGR) of 11.1%. Despite disruptions caused by the Russia-Ukraine war affecting global economic recovery post-COVID-19, the market is poised for long-term expansion, projecting a market size of $11.15 billion by 2027, with a CAGR of 7.8%.
Market Drivers: Impact of Russia-Ukraine War and Economic Recovery
The ongoing Russia-Ukraine war has created short-term challenges, disrupting global economic recovery efforts from the COVID-19 pandemic. Economic sanctions, surges in commodity prices, supply chain disruptions, and inflation across goods and services have reverberated through various markets worldwide. Despite these obstacles, the bentonite market is expected to rebound and flourish in the coming years.
Explore the global bentonite market with a detailed sample report:
Major Players and Industry Trends
Key players such as Wyo-Ben Inc., Huawei Bentonite, Amcol, Ashapura, and Cimbar play a pivotal role in driving the growth of the bentonite market. These companies focus on leveraging advanced geosynthetic clay liners to prevent leakage and corrosion in mining operations, aligning with a major trend witnessed in the global bentonite market.
Current Trends: Adoption of Advanced Geosynthetic Clay Liners
Companies within the bentonite industry are increasingly adopting advanced geosynthetic clay liners to enhance operational efficiency and mitigate environmental risks in mining activities. This trend reflects a strategic move towards sustainable and technologically advanced practices within the market.
Market Segments: Comprehensive Overview
By Type: Sodium, Calcium, and Other Types – Bentonite
By Mining Type: Underground Mining, Surface Mining
Regional Insights: Asia-Pacific Leads the Way
Asia-Pacific emerged as the dominant region in the bentonite market in 2022, contributing significantly to the market's overall growth. The comprehensive market report provides detailed insights into regional dynamics, market trends, and growth opportunities across Asia-Pacific, Western Europe, Eastern Europe, North America, South America, the Middle East, and Africa.
Access the complete report for an in-depth analysis of the global bentonite market:
Bentonite Global Market Report 2023 from TBRC covers the following information:
1. Market size date for the forecast period: Historical and Future
2. Market analysis by region: Asia-Pacific, China, Western Europe, Eastern Europe, North America, USA, South America, Middle East and Africa.
3. Market analysis by countries: Australia, Brazil, China, France, Germany, India, Indonesia, Japan, Russia, South Korea, UK, USA.
Trends, opportunities, strategies and so much more.
The Bentonite Global Market Report 2023 by The Business Research Company is the most comprehensive report that provides insights on bentonite market size, bentonite market drivers and trends, bentonite market major players, competitors' revenues, market positioning, and market growth across geographies. The bentonite market report helps you gain in-depth insights on opportunities and strategies. Companies can leverage the data in the report and tap into segments with the highest growth potential.
Browse Through More Similar Reports By The Business Research Company:
General Mineral Mining Global Market Report 2020
Mining Global Market Report 2023
Mining Market 2023
About The Business Research Company
The Business Research Company has published over 3000+ detailed industry reports, spanning over 3000+ market segments and 60 geographies. The reports draw on 1,500,000 datasets, extensive secondary research, and exclusive insights from interviews with industry leaders.
Global Market Model – Market Intelligence Database
The Global Market Model, The Business Research Company's flagship product, is a market intelligence platform covering various macroeconomic indicators and metrics across 60 geographies and 27 industries. The Global Market Model covers multi-layered datasets that help its users assess supply-demand gaps.
Contact Information
The Business Research Company
Europe: +44 207 1930 708
Asia: +91 8897263534
Americas: +1 315 623 0293
Email: [email protected]
Check out our:
LinkedIn:
Twitter:
Facebook:
YouTube:
Blog:
Healthcare Blog:
Global Market Model:
Oliver Guirdham
The Business Research Company
+44 20 7193 0708
[email protected]
Visit us on social media:
Facebook
Twitter
LinkedIn
Fuel Cell Electric Vehicle Market Growth Forecast 2023-2027


Article originally published on www.einpresswire.com as Global Bentonite Market Positioned for Remarkable Growth, Anticipated to Reach $11.15 Billion by 2027