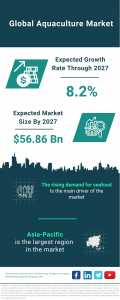 Aquaculture Global Market Report 2023
The Business Research Company's global market reports are now updated with the latest market sizing information for the year 2023 and forecasted to 2032
The aquaculture market size is expected to grow to $56.86 billion in 2027 at a CAGR of 8.2%."
— The Business Research Company
LONDON, UK, November 17, 2023 /EINPresswire.com/ — The global aquaculture market is on track for substantial growth, with expectations of an increase from $37.66 billion in 2022 to $41.45 billion in 2023, at a steady compound annual growth rate (CAGR) of 10.0%. Despite the global economic challenges posed by the Russia-Ukraine conflict and the lingering effects of the COVID-19 pandemic, the market is projected to expand to $56.86 billion by 2027, driven by the escalating demand for seafood and innovative technological advancements in the aquaculture sector.
Surging Demand for Seafood Boosts Market Growth
The surge in demand for seafood is expected to be a significant driver for the growth of the aquaculture market. With seafood consumption projected to increase by 16.3% by 2029, the prominence of aquaculture in meeting this demand is set to expand. Edible aquatic animals, including a variety of fish and other marine creatures, are gaining increased traction, spurring growth in the aquaculture industry.
For a deeper understanding of the comprehensive dynamics and trends shaping the global aquaculture market, access the sample report here:
Key Players and Market Trends
Prominent players such as Aquaculture Equipment Ltd., Mowi ASA, and Siemens AG are actively contributing to the market's growth trajectory by introducing innovative technological solutions. These technological advancements, exemplified by Siemens AG's Aquaculture 4.0 closed containment system, leverage cutting-edge technologies for sustainable tropical fish farming and incorporate artificial intelligence-driven operations using the open IoT operating system MindSphere in the cloud. These initiatives aim to ensure consistent fish production with increased yield, driving the sector's technological evolution.
Segments:
• By Fish Type: Carps, Mollusks, Crustaceans, Mackerel, Sea Bream, Other Fish Types
• By Environment: Marine Water, Fresh Water, Brackish Water
• By Rearing Product Type: Equipment, Chemicals, Pharmaceuticals, Fertilizers
• By Species: Aquatic Animals, Aquatic Plants
• By Distribution Channel: Traditional Retail, Supermarkets and Hypermarkets, Specialized Retailers, Online Stores, Other Distribution Channels
Geographical Insights: Asia-Pacific Leads, Expected to Be the Fastest-Growing Region
Asia-Pacific currently holds the largest share in the aquaculture market, with expectations for the region to emerge as the fastest-growing market in the forecast period.
Gain in-depth insights into regional market dynamics and trends through the complete report:
Aquaculture Global Market Report 2023 from TBRC covers the following information:
• Market size date for the forecast period: Historical and Future
• Market analysis by region: Asia-Pacific, China, Western Europe, Eastern Europe, North America, USA, South America, Middle East and Africa.
• Market analysis by countries: Australia, Brazil, China, France, Germany, India, Indonesia, Japan, Russia, South Korea, UK, USA.
Trends, opportunities, strategies and so much more.
The Aquaculture Global Market Report 2023 by The Business Research Company is the most comprehensive report that provides insights on aquaculture market size, aquaculture market drivers and trends, aquaculture market major players, aquaculture market competitors' revenues, aquaculture market positioning, and aquaculture market growth across geographies. The aquaculture market report helps you gain in-depth insights on opportunities and strategies. Companies can leverage the data in the report and tap into segments with the highest growth potential.
Browse Through More Similar Reports By The Business Research Company:
Aquafeed Additives Global Market Report 2023
https://www.thebusinessresearchcompany.com/report/aquafeed-additives-global-market-report
Aquafeed Global Market Report 2023
https://www.thebusinessresearchcompany.com/report/aquafeed-global-market-report
Reef Aquarium Global Market Report 2023
About The Business Research Company
The Business Research Company has published over 3000+ detailed industry reports, spanning over 3000+ market segments and 60 geographies. The reports draw on 1,500,000 datasets, extensive secondary research, and exclusive insights from interviews with industry leaders.
Global Market Model – Market Intelligence Database
The Global Market Model, The Business Research Company's flagship product, is a market intelligence platform covering various macroeconomic indicators and metrics across 60 geographies and 27 industries. The Global Market Model covers multi-layered datasets that help its users assess supply-demand gaps.
Contact Information
The Business Research Company
Europe: +44 207 1930 708
Asia: +91 8897263534
Americas: +1 315 623 0293
Email: [email protected]
Check out our:
LinkedIn:
Twitter:
Facebook:
YouTube:
Blog:
Healthcare Blog:
Global Market Model: https://www.thebusinessresearchcompany.com/global-market-model
Oliver Guirdham
The Business Research Company
+44 20 7193 0708
[email protected]
Visit us on social media:
Facebook
Twitter
LinkedIn
YouTube
Sports Market Growth Forecast 2023-2027


Article originally published on www.einpresswire.com as Global Aquaculture Market Forecasted to Reach $56.86 Billion by 2027, Driven by Rising Seafood Demand