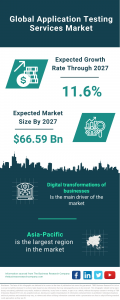 Application Testing Services Global Market Report 2023
The Business Research Company's global market reports are now updated with the latest market sizing information for the year 2023 and forecasted to 2032
The market size of the application testing services is expected to grow to $66.59 billion in 2027 at a CAGR of 11.6%."
— The Business Research Company
LONDON, GREATER LONDON, UK, November 17, 2023 /EINPresswire.com/ — The global application testing services market is set to witness significant expansion, climbing from $38.17 billion in 2022 to $42.87 billion in 2023, with a robust compound annual growth rate (CAGR) of 12.3%. Despite the disruptions caused by the ongoing Russia-Ukraine war, hindering global economic recovery from the COVID-19 pandemic, the market is projected to surge to $66.59 billion by 2027, fueled by the increasing digital transformations across businesses globally.
Digital Transformations of Businesses Drive Market Growth
The widespread adoption of digital transformations within businesses represents a key factor propelling the growth of the application testing services market in the foreseeable future. With businesses embracing comprehensive integration of digital technologies to enhance operational efficiency, value, and innovation, the demand for efficient application testing services has intensified. These services contribute significantly to streamlining the application testing process, providing faster feedback, and minimizing the time required for product and service releases into the market. Notably, the acceleration of digital transformation by 59% during the COVID-19 pandemic, as highlighted by International Business Machines Corporation, underscores the critical role of digital transformations in bolstering the application testing services market.
Explore the global application testing services market with a detailed sample report:
Key Players and Market Trends
Prominent players in the application testing services market include Accenture, Capgemini, Cognizant, and DXC Technology Company, among others, actively contributing to the industry's competitive landscape. Strategic partnerships have emerged as a key trend gaining traction within the market, exemplified by the partnership between Applause, a US-based testing and digital quality company, and Infosys Limited, an India-based information technology company. This partnership aims to deliver comprehensive digital testing services to clients, combining Applause's crowd testing approach with Infosys' robust behind-the-firewall validation, ultimately enhancing customer intimacy and facilitating high-quality digital experiences for clients.
Segments:
• By Testing Type: Functionality Testing, Usability Testing, Performance Testing, Compatibility Testing, Security Testing, Compliance Testing, Automation Testing, Other Testing Types
• By Organization Size: Small and Medium Enterprises, Large Enterprises
• By Service Type: Professional Services, Managed Services
• By Delivery Model: Onshore, Offshore, Nearshore, Onsite
• By Vertical: Telecom and IT, BFSI, Healthcare and Life Sciences, Government and Public Sector, Media and Entertainment, Manufacturing, Retail, Energy and Utilities, Logistics and Transportation, Other Verticals
Geographical Insights: Asia-Pacific Leads, North America Follows Suit
Asia-Pacific emerged as the largest region in the application testing services market in 2022, with North America securing the second-largest market share. The comprehensive report provides detailed insights into regional dynamics, market trends, and potential growth opportunities.
Access the complete report for an in-depth analysis of the global application testing services market:
Application Testing Services Global Market Report 2023 from TBRC covers the following information:
• Market size date for the forecast period: Historical and Future
• Market analysis by region: Asia-Pacific, China, Western Europe, Eastern Europe, North America, USA, South America, Middle East and Africa.
• Market analysis by countries: Australia, Brazil, China, France, Germany, India, Indonesia, Japan, Russia, South Korea, UK, USA.
Trends, opportunities, strategies and so much more.
The Application Testing Services Global Market Report 2023 by The Business Research Company is the most comprehensive report that provides insights on application testing services market size, application testing services market drivers and trends, application testing services market major players, competitors' revenues, application testing services market positioning, and market growth across geographies. The application testing services market report helps you gain in-depth insights on opportunities and strategies. Companies can leverage the data in the report and tap into segments with the highest growth potential.
Browse Through More Similar Reports By The Business Research Company:
Application Security Global Market Report 2023
Application Modernization Services Global Market Report 2023
https://www.thebusinessresearchcompany.com/sample.aspx?id=7951&type=smp
Application Management Services Global Market Report 2023
About The Business Research Company
The Business Research Company has published over 3000+ detailed industry reports, spanning over 3000+ market segments and 60 geographies. The reports draw on 1,500,000 datasets, extensive secondary research, and exclusive insights from interviews with industry leaders.
Global Market Model – Market Intelligence Database
The Global Market Model, The Business Research Company's flagship product, is a market intelligence platform covering various macroeconomic indicators and metrics across 60 geographies and 27 industries. The Global Market Model covers multi-layered datasets that help its users assess supply-demand gaps.
Contact Information
The Business Research Company
Europe: +44 207 1930 708
Asia: +91 8897263534
Americas: +1 315 623 0293
Email: [email protected]
Check out our:
LinkedIn:
Twitter:
Facebook:
YouTube:
Blog:
Healthcare Blog:
Global Market Model: https://www.thebusinessresearchcompany.com/global-market-model
Oliver Guirdham
The Business Research Company
+44 20 7193 0708
[email protected]
Visit us on social media:
Facebook
Twitter
LinkedIn
YouTube
Sports Market Growth Forecast 2023-2027


Article originally published on www.einpresswire.com as Global Application Testing Services Market Poised for Growth, Expected to Reach $66.59 Billion by 2027