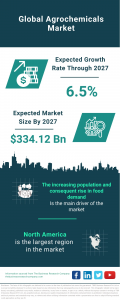 Agrochemicals Global Market Report 2023
The Business Research Company's global market reports are now updated with the latest market sizing information for the year 2023 and forecasted to 2032
The agrochemicals market size is expected to grow to $334.12 billion in 2027 at a CAGR of 6.5%."
— The Business Research Company
LONDON, GREATER LONDON, UK, November 15, 2023 /EINPresswire.com/ — The global agrochemicals market is on an upward trajectory, with expectations to expand from $241.85 billion in 2022 to $259.4 billion in 2023, demonstrating a robust compound annual growth rate (CAGR) of 7.3%. Despite the disruptions caused by the Russia-Ukraine conflict and the lingering impacts of the COVID-19 pandemic on the global economy, the market is anticipated to reach an estimated size of approximately $334.12 billion by 2027, driven by a CAGR of 6.5%.
Rising Population and Food Demand Fuel Market Growth
The growth of the agrochemicals market is closely linked to the increasing global population and the subsequent surge in food demand. Food, comprising essential nutrients like protein, carbohydrates, and fats, plays a critical role in sustaining life processes and providing energy. As the global population continues to grow steadily, so does the demand for food, consequently driving the expansion of the agrochemicals market.
For instance, according to the United Nations, the world's population is projected to increase by 2 billion people over the next 30 years, growing from 7.7 billion in 2021 to 9.7 billion in 2050. Additionally, Intechnopen, a UK-based publisher of journals and books, estimates that global food demand will surge by 70% by 2050. This underscores the significant role of the increasing population and the subsequent rise in food demand in propelling the agrochemicals market.
For a more comprehensive understanding of the agrochemicals market, we invite you to explore the detailed sample report available at the following link:
Segments of the Agrochemicals Market
The global agrochemicals market is categorized into distinct segments to cater to diverse agrochemical needs:
• By Fertilizer Type: Nitrogen Fertilizer, Phosphatic Fertilizer, Potassic Fertilizer, Other Fertilizer Types
• By Pesticide Type: Fungicides, Herbicides, Insecticides, Other Pesticide Types
• By Application: Crop Based, Non-Crop Based
Regional Insights: North America Leads, Asia-Pacific Shows Promising Growth
Key Players in the Agrochemicals Market
The agrochemicals market features a prominent lineup of key players actively contributing to the industry's growth. Leading companies such as Adama Agricultural Solutions, Agrium Inc., BASF SE, Bayer AG, Yara International ASA, The Mosaic Company, Israel Chemical Company, FMC Corporation, E.I. du Pont Nemours and Company, Monsanto Company, Dow AgroSciences LLC, Land O' Lakes Inc., Sumitomo Chemical Co Ltd., Zuari Agro Chemicals Ltd., Gharda Chemicals Limited, and Huntsman International LLC are at the forefront of this dynamic sector.
Strategic Partnerships and Collaborations Drive Market Dynamics
A notable trend in the agrochemicals market is the increasing emphasis on strategic partnerships and collaborations among major industry players. Companies operating in the agrochemicals sector are actively seeking partnerships to strengthen their market position and develop innovative solutions. For example, in October 2021, Enko, a US-based global crop health company, partnered with Nufarm, an Australia-based agrochemical company, to create new chemical processes and expand the supply chains for crucial herbicides in Europe, the United States, and Australia. This collaboration aims to address the growing demand for expanded access and innovative chemical formulations.
Furthermore, in January 2022, BASF, a Germany-based chemical company, collaborated with Innospec, a US-based chemical company. This collaboration enables BASF to broaden its product portfolio and offer DCI-11 Plus ClearTrak alongside industry-leading sales and technical support.
In 2022, North America emerged as the largest region in the agrochemicals market. However, Asia-Pacific is expected to be the fastest-growing region during the forecast period. The agrochemicals market analysis covers various regions, including Asia-Pacific, Western Europe, Eastern Europe, North America, South America, the Middle East, and Africa.
To access the complete report and gain profound insights into the agrochemicals market, don't miss this opportunity:
Agrochemicals Global Market Report 2023 from TBRC covers the following information:
• Market size date for the forecast period: Historical and Future
• Market analysis by region: Asia-Pacific, China, Western Europe, Eastern Europe, North America, USA, South America, Middle East and Africa.
• Market analysis by countries: Australia, Brazil, China, France, Germany, India, Indonesia, Japan, Russia, South Korea, UK, USA.
Trends, opportunities, strategies and so much more.
The Agrochemicals Global Market Report 2023 by The Business Research Company is the most comprehensive report that provides insights on agrochemicals market size, agrochemicals market drivers and trends, major players, agrochemicals market competitors' revenues, market positioning, and market growth across geographies. The agrochemicals market report helps you gain in-depth insights on opportunities and strategies. Companies can leverage the data in the report and tap into segments with the highest growth potential.
Browse Through More Similar Reports By The Business Research Company:
Agricultural Micronutrients Global Market Report 2023
Agri Natural Enemy Pest Control Global Market Report 2023
Agricultural Biologics Global Market Report 2023
About The Business Research Company
The Business Research Company has published over 3000+ detailed industry reports, spanning over 6500+ market segments and 60 geographies. The reports draw on 1,500,000 datasets, extensive secondary research, and exclusive insights from interviews with industry leaders.
Global Market Model – Market Intelligence Database
The Global Market Model, The Business Research Company's flagship product, is a market intelligence platform covering various macroeconomic indicators and metrics across 60 geographies and 27 industries. The Global Market Model covers multi-layered datasets that help its users assess supply-demand gaps.
Contact Information
The Business Research Company
Europe: +44 207 1930 708
Asia: +91 8897263534
Americas: +1 315 623 0293
Email: [email protected]
Check out our:
LinkedIn:
Twitter:
Facebook:
YouTube:
Blog:
Healthcare Blog:
Global Market Model: https://www.thebusinessresearchcompany.com/global-market-model
Oliver Guirdham
The Business Research Company
+44 20 7193 0708
[email protected]
Visit us on social media:
Facebook
Twitter
LinkedIn
YouTube
Sports Market Growth Forecast 2023-2027


Article originally published on www.einpresswire.com as Global Agrochemicals Market Set for Growth, Projected to Reach $334.12 Billion by 2027