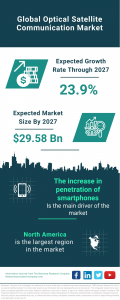 Optical Satellite Communication Global Market Report 2023
The Business Research Company's global market reports are now updated with the latest market sizing information for the year 2023 and forecasted to 2032
The market size of the optical satellite communication is expected to grow to $29.58 billion in 2027 at a CAGR of 23.9%."
— The Business Research Company
LONDON, GREATER LONDON, UK, November 6, 2023 /EINPresswire.com/ — The global optical satellite communication market, currently valued at $10.38 billion, is projected to reach $12.55 billion in 2023, displaying a remarkable compound annual growth rate (CAGR) of 21.0%. Despite the recent challenges posed by the Russia-Ukraine conflict, which triggered economic sanctions and supply chain disruptions, the market is anticipated to expand significantly to $29.58 billion by 2027, maintaining a robust CAGR of 23.9%.
Market Segmentation and Key Players
• Component: Transmitter, Receiver, Modulator, Demodulator, Other Components
• Laser Type: Yag Laser, Silex Laser, Microwave Laser, Co2 Laser, Aigaas Laser Diode
• Application: Backhaul, Surveillance and Security, Tracking and Monitoring, Earth Observation, Enterprise Connectivity, Research and Space Exploration, Telecommunication, Other Applications
Leading optical satellite communication market companies such as Mynaric AG, Analytical Space Inc., ATLAS Space Operations Inc., BridgeSat Inc., and Maxar Technologies Ltd. are instrumental in driving the growth of the optical satellite communication market through their innovative solutions and comprehensive offerings.
To gain insights into the market's dynamics, refer to our sample report:
Key Market Drivers and Trends
The market's growth is spurred by the increasing penetration of smartphones, particularly in remote areas where optical satellite communication plays a critical role in providing reliable communication signals. For example, India witnessed a substantial rise in mobile connections, smartphone users, and internet subscribers, reaching a staggering 700 million internet users in 2021, with continuous quarterly growth. This surge highlights the integral role of optical satellite communication in meeting the escalating demand for connectivity in the smartphone market.
Advancements in Laser Communication Relay Systems
A significant trend in the optical satellite communication market is the emergence of laser communication relay systems. Companies within the industry are focused on developing cutting-edge systems, exemplified by NASA's recent launch of the Laser Communications Relay Demonstration (LCRD) system. By leveraging optical communication, the LCRD is expected to significantly increase the bandwidth, surpassing the capabilities of traditional radio frequency systems.
Regional Analysis and Market Dynamics
North America currently holds the largest share in the optical satellite communication market, while Asia-Pacific is poised to emerge as the fastest-growing region during the forecast period. The comprehensive market report includes detailed analyses of key regions, encompassing Asia-Pacific, Western Europe, Eastern Europe, North America, South America, the Middle East, and Africa.
For a comprehensive understanding of the evolving landscape of the optical satellite communication market, access our detailed market report:
Optical Satellite Communication Global Market Report 2023 from TBRC covers the following information:
• Market size date for the forecast period: Historical and Future
• Market analysis by region: Asia-Pacific, China, Western Europe, Eastern Europe, North America, USA, South America, Middle East and Africa.
• Market analysis by countries: Australia, Brazil, China, France, Germany, India, Indonesia, Japan, Russia, South Korea, UK, USA.
Trends, opportunities, strategies and so much more.
The Optical Satellite Communication Global Market Report 2023 by The Business Research Company is the most comprehensive report that provides insights on optical satellite communication market size, optical satellite communication market drivers and trends, optical satellite communication market major players, optical satellite communication market competitors' revenues, optical satellite communication market positioning, and optical satellite communication market growth across geographies. The optical satellite communication market report helps you gain in-depth insights on opportunities and strategies. Companies can leverage the data in the report and tap into segments with the highest growth potential.
Browse Through More Similar Reports By The Business Research Company:
Satellite Manufacturing And Launch Systems Global Market Report 2023
Satellite Antenna Global Market Report 2023
https://www.thebusinessresearchcompany.com/report/satellite-antenna-global-market-report
Satellite Payload Global Market Report 2023
About The Business Research Company
The Business Research Company has published over 3000+ detailed industry reports, spanning over 3000+ market segments and 60 geographies. The reports draw on 1,500,000 datasets, extensive secondary research, and exclusive insights from interviews with industry leaders.
Global Market Model – Market Intelligence Database
The Global Market Model, The Business Research Company's flagship product, is a market intelligence platform covering various macroeconomic indicators and metrics across 60 geographies and 27 industries. The Global Market Model covers multi-layered datasets that help its users assess supply-demand gaps.
Contact Information
The Business Research Company
Europe: +44 207 1930 708
Asia: +91 8897263534
Americas: +1 315 623 0293
Email: [email protected]
Check out our:
LinkedIn:
Twitter:
Facebook:
YouTube:
Blog:
Healthcare Blog:
Global Market Model:
Oliver Guirdham
The Business Research Company
+44 20 7193 0708
[email protected]
Visit us on social media:
Facebook
Twitter
LinkedIn
YouTube
Sports Market Growth Forecast 2023-2027


Article originally published on www.einpresswire.com as Fueling Global Connectivity through Optical Satellite Communication