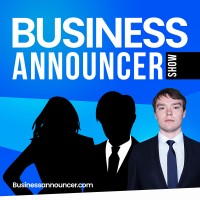 Businessannouncer.com Podcast Photo
DENVER, COLORADO, UNITED STATES, November 11, 2023 /EINPresswire.com/ — Business Announcer, the forefront platform for insightful business and technology coverage, is thrilled to announce a groundbreaking episode hosted by our esteemed anchor, Sven Patzer. This upcoming feature promises an enthralling journey into the innovative world of Miko, the AI-powered smart robot designed to redefine playtime for children.
*Discovering Technological Marvels: Miko's Enchanting Features Unveiled*
Sven Patzer, the dynamic host of Business Announcer, leads viewers on an exploration of Miko's captivating features. The episode will shine a spotlight on Miko's high-definition camera, capturing the essence of every moment with unparalleled clarity. Furthermore, the program will showcase an array of AI-infused games, transforming any space into an interactive dance floor, blending technology seamlessly with the magic of play.
*Tailoring Joy: Addressing Age Suitability Across Diverse Interests*
Business Announcer, known for its thorough investigations, will delve into the age suitability of Miko, ensuring that this innovative smart robot is not only a playtime companion but a versatile one. Sven Patzer will guide viewers through an in-depth examination, addressing the varied interests of children across different age groups. This ensures that Miko offers a personalized and enriching experience for every child, fostering creativity and engagement.
*Demystifying Miko: Exploring Its Capabilities Without a Subscription*
In this episode, Business Announcer tackles a burning question that often lingers in the minds of our viewers: What can Miko offer beyond subscription-based services? Sven Patzer engages in an insightful conversation, uncovering the robust capabilities of Miko even without a subscription. The aim is to provide transparency, empowering viewers to make informed decisions about integrating Miko into their child's play and learning environment.
This not-to-be-missed episode is a testament to Business Announcer's commitment to delivering cutting-edge content that explores the intersection of technology and daily life. Join Sven Patzer on this exciting journey into the heart of Miko, where innovation and play converge to shape the future of childhood experiences.
For media inquiries or further information, please contact Business Announcer
### About Business Announcer

Business Announcer is a leading platform for comprehensive coverage of business and technology insights. With a commitment to delivering engaging content, Business Announcer provides viewers with a front-row seat to the latest innovations and trends shaping the business landscape.
### About Sven Patzer

Sven Patzer, the dynamic host of Business Announcer, is renowned for his insightful commentary and in-depth interviews. With a passion for exploring the intersection of technology and human experiences, Sven brings a unique perspective to every episode.
Sven Patzer
Business Announcer
+1 7203463836
email us here
Visit us on social media:
LinkedIn
Article originally published on www.einpresswire.com as Exploring the Future of Interactive Learning with Miko, the AI-Powered Smart Robot for Kids