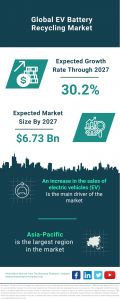 EV Battery Recycling Global Market Report 2023 – Market Size, Trends, And Global Forecast 2023-2032
The Business Research Company's EV Battery Recycling Global Market Report 2023 – Market Size, Trends, And Global Forecast 2023-2032
The Business Research Company's global market reports are now updated with the latest market sizing information for the year 2023 and forecasted to 2032
"
— The Business Research Company
LANDON, GREATER LANDON, UK, November 20, 2023 /EINPresswire.com/ — The Business Research Company's global market reports are now updated with the latest market sizing information for the year 2023 and forecasted to 2032
The ev battery recycling market is set to reach $6.73 billion by 2027, growing at a CAGR of 30.2%, as per TBRC's EV Battery Recycling Global Market Report 2023.
EV battery recycling market grows due to rising electric vehicle sales. Asia-Pacific leads the ev battery recycling market share. Key players: Accurec Recycling, American Manganese, Umicore, Li-Cycle, G & P Batteries, Recupyl, Retriev Technologies, Sitrasa, Floridienne (Snam S.A.S.), Redwood Materials.
EV Battery Recycling Market Segments
• By Battery Type: Lead-Acid Battery, Lithium-Based Battery, Other Battery Types
• By Process: Pyrometallurgical, Hydrometallurgical, Other Processes
• By Vehicle Type: Passenger Cars, Commercial Vehicles
• By Application: Electric Cars, Electric Buses, Energy Storage Systems, Other Applications
• By Geography: The global ev battery recycling market is segmented into North America, South America, Asia-Pacific, Eastern Europe, Western Europe, Middle East and Africa.
Learn More On The Market By Requesting A Free Sample (Includes Graphs And Tables):
The EV battery recycling refers to the process of recycling the batteries of electric vehicles. Lithium-ion batteries are the common type of batteries that are used in electric vehicles (EVs), and recycling of these batteries is done to reclaim the crucial minerals such as lithium, cobalt, manganese, and nickel. These minerals are further used to produce new batteries.
Read More On The Global EV Battery Recycling Market Report At:
The Table Of Content For The Market Report Include:
1. Executive Summary
2. Market Characteristics
3. EV Battery Recycling Market Trends And Strategies
4. EV Battery Recycling Market – Macro Economic Scenario
5. EV Battery Recycling Market Size And Growth
……
27. Market Competitor Landscape And Company Profiles
28. Key Mergers And Acquisitions In The Market
29. Market Future Outlook and Potential Analysis
30. Appendix
Browse Through More Similar Reports By The Business Research Company:
Electrical And Electronics Global Market Report 2023
Passenger Electric Vehicles Global Market Report 2023
Electrical Equipment Global Market Report 2023
About The Business Research Company
The Business Research Company has published over 3000+detailed industry reports, spanning over 3000+ market segments and 60 geographies. The reports draw on 1,500,000 datasets, extensive secondary research, and exclusive insights from interviews with industry leaders.
Global Market Model – Market Intelligence Database
The Global Market Model, The Business Research Company's flagship product, is a market intelligence platform covering various macroeconomic indicators and metrics across 60 geographies and 27 industries. The Global Market Model covers multi-layered datasets that help its users assess supply-demand gaps.
Contact Information
The Business Research Company: https://www.thebusinessresearchcompany.com/
Europe: +44 207 1930 708
Asia: +91 8897263534
Americas: +1 315 623 0293
Email: [email protected]
Check out our:
LinkedIn:https://in.linkedin.com/company/the-business-research-company
Twitter:https://twitter.com/tbrc_info
Facebook: https://www.facebook.com/TheBusinessResearchCompany
YouTube: https://www.youtube.com/channel/UC24_fI0rV8cR5DxlCpgmyFQ
Blog:https://blog.tbrc.info/
Healthcare Blog:https://healthcareresearchreports.com/
Global Market Model: https://www.thebusinessresearchcompany.com/global-market-model
Oliver Guirdham
The Business Research Company
+44 20 7193 0708
[email protected]
Visit us on social media:
Facebook
Twitter
LinkedIn
Vegan Protein Powder Market Growth Forecast 2023-2027


Article originally published on www.einpresswire.com as EV Battery Recycling Market Size, Share And Growth Analysis For 2023-2032