Max Studennikoff Chairman and Founder CC Forum galvanizes the guests and participants behind profit centers lending to a more verdant and socially just planet.mate s
Beax Artes inspired with a low slung facade – grey and white marble, candelabras, and Louis XV-style appointments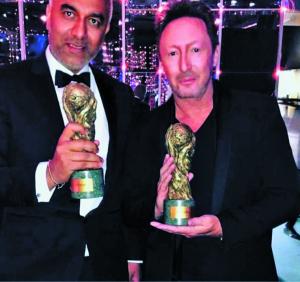 Julien Lennon receives a coveted Award from the Climate Change Forum
Climate Change Forum,Dec 5-7 & COP28 confirm 35,000 activists from 199 States and CC-Forum delegates converging in Dubai to advance critical environment agendas
Humanity must do everything in our power to win the race with Climate Change if we want to preserve (and improve) on the world as we know it today for future generations."
— Max Studennikoff, Founder and CEO Climate Change Forum
DUBAI CITY, UNITED ARAB EMIRATUS, November 9, 2023 /EINPresswire.com/ — With the 9th edition of the Climate Change Forum (CC-Forum.com), December 5-7 set to coincide with the COP 28 (Conference of Parties) the two global gatherings promise to be an auspicious occasion to further advance critical environmental activism. Due in-part to the prescience of Max Studennikoff, Founder and CEO the Climate Change Forum, the tri-annual summit had its genesis in 2017. With COP 28 entering a third decade both organizations have stayed the course in the advancement of the UN Framework Convention on Climate Change (UNFCCC) and the 17 Goals of the Social Impact Movement.
Climate Change Forum, a global confab with iterations this past year in Manama – Bahrain, London – UK and Beverly Hills – California, "brings to Dubai an ad hoc group of high-net-worth investors, distinguished planetary preservationists, thought leaders and a future-centric scientific community coalescing into partnerships for positive change. Together guests and participants alike are seeking substantive solutions underwritten by investments in sustainable development from private, civic and governmental sectors.
Mastercard, Inc. returns to the CC-Forum as 'Title Sponsor'. Since its inception in 1947, Mastercard is committed to driving initiatives that empower their 38 billion + customers in reaching their full potential. As the consumer and commerce landscape continues to evolve the iconic company offers a range of innovative business solutions that foster prosperity while concurrently helping preserve the planet.
Aya another CC-Forum participant is a visionary platform dedicated to catalyzing climate change action and sustainability. Not solely a launchpad they serve as a rallying cry for change. Their mission transcends borders, empowering projects with a focus on 'Global South' in the shaping of a sustainable future for all.
Impact Investing Solutions ( is an alignment of family offices, private and institutional investors. Impact Investment Solutions (IIS) are driven to shift capital to cause based investment. With two decades of unwavering dedication IIS, Inc. underwrites climate change initiatives with their four pillars – Education, a TV Show, Certification and an Impact Community Platform that helps their clients on their path to achieve their objectives and quantifiable results. The launch of the First World Impact Centre in UAE, the fifth pillar, has a bold and visionary purpose – to enable a paradigm shift on our Planet for humankind and for nature to thrive.
Silva Terra, also lends its support to CC-Forum's engaging and immersive program. They confirm they are creating prosperity for today and tomorrow, with investments in agriculture and forestry. Their stated mandates include climate protection, CO2 certificates that they confirm result in double digit returns.
With a global groundswell of countless 'life-saving' local to global events, forums , summits and community activations the final days of 2023 have fulfilled its promise to be a watershed year. The pendulum swung from skepticism and 'climate change deniers' to most of the world's population acknowledging that the planet is undergoing catastrophic change," confirms Max Studennikoff, of the CC-Forum.com.
The tri-annual confab brings together major global investment funds, family offices, VC capital firms, HNWs, senior government officials, the brightest startups and well-known public figures. The CC-Forum organizers and guests eschew publicity. Among CC Forum's previous participants were HSH Prince Albert II of Monaco, Ban Ki Moon, Stanley Johnson, Placido Domingo, Nouriel Roubini, Tim Draper, Dame Jane Goodall, HSH Princess Charlene of Monaco, HSH Prince Michael of Liechtenstein, HE Sheikh Awadh Magrin bin Sultan, HH Sheikha Noora and Holmes Stoner, Founder of Green Alliance International (PacRimCC.com). They prefer to remain under the radar letting their good works speak for them.
Situated along the banks of the Dubai Water Canal, Habtoor Palace Dubai, LXR Hotels & Resorts is rich in urban amenities and Beaux-Arts architecture. Accommodation is breathtaking, the gardens are manicured magnificence, the Silk Spa, two roof top crystalline pools and a spacious state-of-the-art event space is the ideal setting to focus on the arduous agenda at hand. What both CC-Forum , COP28 and even regional events such as ArtBasil.org in South Florida share in a rich heritage of conscientious connoisseurship and environmental commitment.
Taking the long view, most participants at the CC-Forum and concurrent confabs are examining how homo sapiens went from gathering wild berries and chipping away at arrowheads to 'take out' meals in self driving cars and ordering granite counter tops. Or to paraphrase Chip Colwell in his compelling tome 'So Much Stuff, How Humans discovered Tools, Invented Meaning and Made More of Everything' (Chicago Publishing), "Our special talent is refashioning raw materials from rock into roads and mining quartz for integrated circuits, have humans today defined by their things". With the specter of Artificial Intelligence (AI) we may even be made by our things. The clarion cry at the dual summits in Dubai is, 'Either we change our ways or this unique talent predictably will be our undoing as a species'.
Cristiane Roget
Vector International Pictures
+1 310-220-9118
email us here
Climate Change Forum Dubai 2023 – Our Purpose
Article originally published on www.einpresswire.com as Climate Change Forum to Coincide with COP 28 in Dubai UAE Set To Span the Globe December 5-7, It is Only Natural