Still from SHELLFISH (2022)
Shellfish (2022) Poster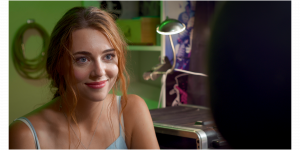 Still from SHELLFISH (2022) of Savanah Joeckel as Harper Belloway
Discover SHELLFISH, Winner of 35 Film Festival Awards, Including Ten "Best of Fest!"
Shellfish is a work of sheer passion and creativity."
— Film Threat
LOS ANGELES, CA, UNITED STATES, April 10, 2023/EINPresswire.com/ — Cannes Film Agency announced its selection of SHELLFISH as one of ten feature films they will represent for international sales and distribution "at the most prestigious film markets in the world… [their] team of experts will represent [our] film at Festival de Cannes, MIPCOM, and MIPTV."
The potential is exciting as more than 90% of the world's population lives outside North America – SHELLFISH is currently distributed in the US, Canada & the Caribbean by Freestyle Digital Media.
To watch SHELLFISH and learn more ->
Keller, a stop motion animator, has a week to make a film with his dumbstruck brother and the girl of his dreams without his parents finding out. As their shoot unravels, he must face his own selfishness and decide which is more important, his filmmaking or close relationships.
SHELLFISH is a heartfelt, coming-of-age comedy with a stop-motion twist. Following a harrowing loss, Keller focuses on animating instead of dealing with his trauma. Consequently, strong emotions are depicted through animation mixed with live-action footage, inspired by films like Scott Pilgrim vs. The World and Me and Earl and the Dying Girl.
Assuming its modest budget, audiences have been pleasantly surprised by the film's cinematic look, standout comedic and heartfelt performances, colorful set pieces, engaging story, catchy original score, and soundtrack featuring popular alternative artists Tally Hall, Kishi Bashi, and Austin Weber.
SHELLFISH doesn't take itself too seriously and never shies away from weightier themes, like death, parenthood, sibling rivalry, commitment, and of course, selfishness.
Initially made possible through UNLV's Johnny Brenden Filmmakers Grant, SHELLFISH was completed with support from many selfless contributors and collaborators. It premiered at the Dances with Films Festival at the TCL Chinese Theatre in Hollywood, once owned by Johnny Brenden's grandfather, Ted Mann.
SHELLFISH is available as VOD on every major streaming platform and on Blu-Ray, distributed by Allied Vaughn, wherever they are sold online!
+1 702-575-5717
email us here
Cre8ive Network, llc
James Robert
Visit us on social media:
Facebook
Instagram
Other
Shellfish Official Trailer


Article originally published on www.einpresswire.com as Cannes Film Agency Chooses Awarding-Winning Feature Film SHELLFISH for International Distribution