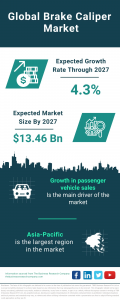 Brake Caliper Global Market Report 2023 – Market Size, Trends, And Global Forecast 2023-2032
The Business Research Company's Brake Caliper Global Market Report 2023 – Market Size, Trends, And Global Forecast 2023-2032
The brake caliper market is expected to reach $13.46 billion in 2027 at a CAGR of 4.3%."
— The Business Research Company
LONDON, GREATER LONDON, UK, November 10, 2023 /EINPresswire.com/ — The Business Research Company's global market reports are now updated with the latest market sizing information for the year 2023 and forecasted to 2032
The "Brake Caliper Global Market Report 2023" provides comprehensive market information. The brake caliper market size is expected to reach $13.46 billion in 2027, with a 4.3% CAGR per TBRC's forecast.
Passenger vehicle sales drive brake caliper market growth. Asia-Pacific projected to lead. Key brake caliper market players: Robert Bosch, ZF Friedrichshafen, Continental, Aisin Seiki, TRW Automotive Holdings, Knorr-Bremse, HL Mando.
Brake Caliper Market Segments
•By Type: Floating Brake Caliper, Fixed Brake Caliper
•By Vehicle: Passenger Car, Light Commercial Vehicles (LCV), Two-Wheeler, High Commercial Vehicle (HCV)
•By Piston Material: Aluminum, Steel, Titanium, Phenolics
•By Distribution Channel: Original Equipment Manufacturer (OEM), Aftermarket
•By Geography: The global brake caliper market is segmented into North America, South America, Asia-Pacific, Eastern Europe, Western Europe, Middle East and Africa.
Learn More On The Market By Requesting A Free Sample (Includes Graphs And Tables):
A brake caliper is crucial in the car's braking system. It reduces rotor rotation during braking by creating friction with the rotors to slow down the wheels.
Read More On The Brake Caliper Global Market Report At:
The Table Of Content For The Market Report Include:
1. Executive Summary
2. Market Characteristics
3. Brake Caliper Market Trends And Strategies
4. Brake Caliper Market – Macro Economic Scenario
5. Brake Caliper Market Size And Growth
……
27. Market Competitor Landscape And Company Profiles
28. Key Mergers And Acquisitions In The Market
29. Market Future Outlook and Potential Analysis
30. Appendix
Browse Through More Similar Reports By The Business Research Company:
Brake System Global Market Report 2023
Brake Hoses Global Market Report 2023
Automotive Brakes And Clutches Global Market Report 2023
Contact Information
The Business Research Company:
Europe: +44 207 1930 708
Asia: +91 8897263534
Americas: +1 315 623 0293
Email: [email protected]
Check out our:
LinkedIn:
Twitter:
Facebook:
YouTube:
Blog:
Healthcare Blog:
Global Market Model: global-market-model
Oliver Guirdham
The Business Research Company
+44 20 7193 0708
[email protected]
Visit us on social media:
Facebook
Twitter
LinkedIn
Sports Market Growth Forecast 2023-2027


Article originally published on www.einpresswire.com as Brake Caliper Market Size, Share, Revenue, Trends And Drivers For 2023-2032