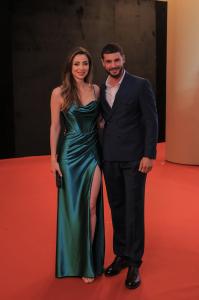 Lamis Kan
Simonetta Lein, Berk Oktay, Ferhat Polat, Persiana Dulo
Golden Wings Awards
Number 1 celebrity gala night in the Arab world was held in the world's most famous towers –Armani Hotel, Burj Khalifa on May 16, 2023
DUBAI, DUBAI, UAE, June 9, 2023/EINPresswire.com/ — "Night of the Stars", presented by Golden Wings Luxury Magazine, founded by multi-platinum singer Persiana Dulo is the one and only Hollywood Style Red Carpet event that welcomed leading personalities and celebrities not only from the Middle East but as well as from Hollywood with a purpose to connect them into one, and to award them for their achievements with the prestigious "Golden Wings Award".
Each awardee has a sparkling cover page on "Golden Wings Luxury Magazine".
Magical atmosphere, luxury gala dinner, star performances and a fashion element this year was brought by "Dubai Jewelery Fashion Week" themed "The Secret Garden" where a lot of beautiful and unique outfits shined on the magical stage. One of the special guest performers were Lamis Kan, Mustafa Al Abdullaah, Nicole Obarzanek, Alira, and Ferhat Polat.
The special awardees this edition were: Berk Oktay "Actor of the Year", Annabella Hilal "Woman of the Year" Mustafa Al Abdullaah "Arabic Singer of the Year", Safa Siddiqui "Reality TV Star of the Year", Balvinder Sahni (Abu Sabah) "Entrepreneur of the Year", Simonetta Lein "TV Personality of the Year", Lamis Kan "Singer of the Year", Hamada Nashawaty "Song of the Year", Ferhat Polat "Voice of the Year", Sahaj Ticotin "Producer of the Year", Mohannad Hutail "Arabic Actor of the Year", Gown and Out of Beverly Hills by Pol Atteu and Patrik Simpson "Reality TV Show of the Year".
Most of the awardees were accommodated by Golden Wings official hotel accommodation partner SLS Hotel Dubai.
Official sponsors of the event were:
Al Ali Yachts, Liali Events, CLC Limosine, Floriana, Crystal Rose, SLS Hotel Dubai, AMF Real Estate, Christin Laurent, La Beaute Hair Professionals, Kai Aesthetic Clinic, One & Only Luxury Cars Rental, Vuliwear, Pizza Domino's, High Heels Cosmetics, Petra Aerospace, Samya Ahmed Gold Trading, Moulvi Perfumes, NFL Investments, Mint & Needle, FP Models, Brother, Mamlaket El Sheikh, PantheraFit, Victor and more.
Stay tuned with the next grand edition of Golden Wings Awards and find out which big names will attend the next grand red carpet.
Marco Polo Experience (www.marcopoloexperience.com) was with us in the media wall and Patrizia Marin ( shared with us the red carpet and communicate our magic with media all over the world.
Check the Event Highlights here: https://www.youtube.com/watch?v=_C81NrtjJ-8
Patrizia Marin
Marcopoloexperience FZ LLC
+971 56 800 3394
email us here
Visit us on social media:
Instagram


Article originally published on www.einpresswire.com as Biggest Arab Night of the Year "Golden Wings Awards" in Armani Hotel welcomed stars from the Middle East & Hollywood