At the first District 2 town hall, Christi Tasker informs the audience "we are being overrun by Government Gangsters". The town hall was hosted by the Women's Club of Coconut Grove for the February 2023 Special Election.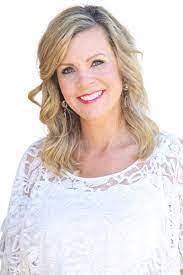 Christi Tasker known as the "Common Sense Leader" for City of Miami District 2 Commissioner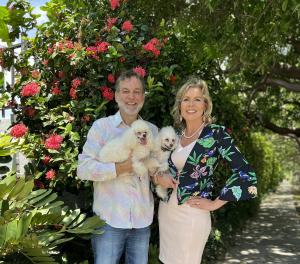 Christi Tasker, District 2 Miami Commission Candidate with her husband Boyd Tasker and their poodles Bentley and Aston Martin
Margie Prieto, a Retired Miami-Dade School Teacher and Christi's mother, Pamela Davis Reeves were the first volunteers in the February Special Election VOTE FOR CHRISTI TASKER campaign.
As Commissioner, Tasker says she will "rip off the City's legal bandaid protecting Miami City officials and stop the City's long-time flooding problems."
To get our basic city services & stop flooding, Miami needs a fearless leader to work for citizens instead of the established regime. I know their game & I will not be duped by Crypto Bro scandals."
— Christi Tasker
MIAMI , FL, USA, June 26, 2023/EINPresswire.com/ — Anti-corruption advocate, and Cox Communications' first award-winning female Tech Exec, Christi Tasker, is re-running for Miami City Commission in District 2, which currently encompasses the coastline and waterway of Biscayne Bay from Morningside to Coconut Grove. Tasker vows to bring Common Sense Leadership to Miami City Hall. In her first town hall, sponsored by the Women's Club of Coconut Grove, Christi Tasker first addressed Miami voters >>> https://youtu.be/RJpX_SuIQxA?t=509
During the February 2023 Special Election for the suddenly vacated District 2 Commission seat Ken Russell. Tasker entered the District 2 race as a first-time candidate for public office. She ran without a treasurer, campaign manager, marketing, or PR firm. She was the last to enter the race for District 2 Miami City Commissioner but won the most votes per dollar spent during the short 6-week campaign cycle. Tasker self-funded her February campaign for $5,000 and rolled more than $3,700 over to the November 7, 2023 campaign. Tasker successfully obtained more votes per dollar than all 13 other candidates on the ballot.
Tasker was the only award-winning technology professional among the other 15 candidates. She questioned the $15 million technology deliverables in the City's proposed budget. As a Silicon Valley venture capital consultant and angel investor, Christi is concerned about Miami's overall future and lacks infrastructure and overall abuse of political powers.
Tasker plans to create a legislature that prevents politicians and other employees from taking Bitcoin salaries. Her legislature will clarify political and employee financial disclosure requirement policies for any company payments that involve government. https://www.cnbc.com/video/2023/01/20/miami-mayor-francis-suarez-ftx-debacle-partly-on-governments-failure-to-regulate.html
Christi plans to run the District 2 Commission office like a business with citizens as the patrons. First, she will hire a staff to tackle the issues citizens report on the City's 311 phone application. Christi is hands-on and will personally see that some of the long outstanding issues are resolved. Her communications experience, hiring the right people, and creating a project management plan will deliver the services citizens expect. Plus, Tasker has a team of citizen volunteers who are finance, technology, and law experts.
At recent City Commission meetings, Christi listens to citizens and often uses her limited two minutes to provide recommendations and solutions to the elected Commissioners. Some of her public comments or public records requests include:
1. The City should consistently deliver Freedom of Information Act (FOIA) Documents to citizens. Tasker requested City's Covid-19 advertising proposals and planning documents for the "Mask Up Miami" ads campaign. To date, the City Manager's office only closed the records request without fulfillment, stating there were no documents. See Tasker's Request 21-1228 on Miami City Records Request. (https://miami.nextrequest.com/requests/21-1228)
2. On June 8, 2023, after Miami citizens created online petitions on Change.org, Christi Tasker addressed Commissioner Joe Carollo at his first Commission meeting after a jury found him liable for $63.5 million in a lawsuit brought forth by Ball and Chain, a club that sued the City for overreach. Tasker said, "We respectfully ask that you step down and give over the Trust of Bayfront Park to the Commissioner in that area." View Tasker's June 15 public comments based on the United States Eleventh Circuit Court Case Number: No. 21-11746: View Change.org petitions re: Joe Carollo > More on the Ball and Chain Lawsuit verdict > View Court Filing: https://www.govinfo.gov/content/pkg/USCOURTS-ca11-21-11746/pdf/USCOURTS-ca11-21-11746-0.pdf
3. On June 15, Tasker asked the Commissioners to "avoid lawsuits," "regain the public's trust," to "keep the communities together instead of dividing communities." Tasker was referencing a lawsuit brought forth by the ACLU and plaintiffs in IN THE UNITED STATES DISTRICT COURT FOR THE SOUTHERN DISTRICT OF FLORIDA MIAMI DIVISION Case No. 1:22-cv-24066. The City is accused of violating the Equal Protection Clause of the 14th Amendment, which guarantees citizenship, just treatment, and voting protection for Black people and minorities. Tasker favored the ACLU map because it has clear "natural lines" without "divets." Watch Tasker's comments from the June 15 commission meeting >
4. On April 4, 2023, Christi stood with Indian tribes when ancestorial remains at least five centuries old were found. Archaeologists state the remains are so historical they are likely the ancestors of the Tequesta tribe that met explorer Juan Ponce de Leon in 1513 when he claimed the land for Spain. Tasker spoke against Jorge Perez, owner of Related Group, being in charge of a Native American burial site. Watch Tasker's comments from the April 4 public comments> Read Archaeologist's statements > https://www.gainesville.com/story/news/2006/01/13/indian-burial-ground-excavated-in-miami/31471761007/
Christi and her husband, Boyd Tasker, first moved to Wynwood Arts District. The Taskers moved to the area to open Wynwood Lab and CASA Wynwood, a private club sponsored by New York-based publications and other notable brands.
The couple moved to Brickell in 2018; they began experiencing developers taking over their HOA's property without proper notices or plans. Mayor Francis Suarez's father, Xavier Suarez, a former City Mayor and former County Commissioner, resides in their neighboring building. When OKO Group contractors breached an aquifer, surrounding property owners reported foundational cracks. The City fined surrounding property owners and never completed a physical geological inspection of the site. Watch > https://www.nbcmiami.com/news/local/concern-continues-over-construction-of-high-rise-in-brickell/2713349/
On her 120-day agenda, Tasker is committed to using her extensive knowledge of the issues in Miami. With her project management skills, she will ensure all services, property, and repairs submitted on 311 are documented with a timeline of completion and deliverable. At the top of her list, Christi plus she will:
1. Meet with the police chief and recommend cultural changes to help fulfill the 50-officer shortage.
2. Create a team of citizen volunteers from the financial sector to audit all City Budgets and Finances, including the FTX and Miami Coin statements and documents.
3. Set up a whistleblower hotline for City employees to report any issues such as retaliation or anything that needs to be investigated within their departments.
4. Meet with the Fire Chief to proactively facilitate expediting the procurement and safety equipment.
5. Audit developers' infrastructure promises to ensure fulfillment before their Certificates of Occupancy are issued.
6. Procure app developers for trolleys and other transportation services to alleviate traffic.
7. Audit Homeless non-government agencies to ensure homeless people can access an app showing available beds.
8. Ensure drains are pumped to prevent flooding.
Christi promises to restore trust and transparency and serve each distinctive District 2 community. She is committed to hiring knowledgeable staff without criminal histories or ties to past politicians. Tasker runs a grassroots Miami Citizens First Campaign. Her mission is to keep citizens and their requests for Miami City services first. Christi Tasker Campaigns is declining donations from communist-tied developers, PAC funds, and non-government organizations that are directly against American values. Individual citizens, micro-donations, and small local business owners will fund her campaign.
Find more about at Christi Tasker | Christi4Miami.com| @Christi4Miami
Christi Tasker is a Public Relations Society of America social media pioneer, international and local business consultant, entrepreneur, brand creator, podcaster, angel investor, and owner of numerous businesses, including Christi Tasker Miami, Tasker Agency, PuTTin' OuT, Design Rockstars, Casa Wynwood, Wynwood Lab, among others.
Barbara Cassanova
Christi Tasker Campaigns
+1 305-390-1982
email us here
Visit us on social media:
Facebook
Twitter
LinkedIn
Instagram
YouTube
TikTok
Other
Christi Tasker Asks For Joe Carollo To Immediately Step Down After $63.5 Million Liable Suit Plus Return Miami's Most Profitable Bay Front Park Trust


Article originally published on www.einpresswire.com as Award-Winning Technology Exec Christi Tasker Runs for Miami Commission To Stop Flooding, Gerrymandering & Lawsuits