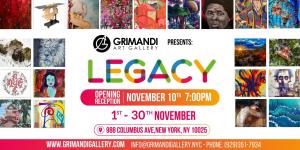 Official Flyer for the Event
LEGACY EXHIBIT
Grimandi Art Gallery – LEGACY
LEGACY: Where Art Meets Legacy – Dive into the Wonders at Grimandi Art Gallery
NEW YORK, NEW YORK, UNITED STATES, November 13, 2023 /EINPresswire.com/ — The Grimandi Art Gallery, located at 988 Columbus Avenue, has become the venue for LEGACY, a unique art exhibition that has captivated the city's art community. The exhibition, curated by Viviana Puello and Alan Grimandi – the esteemed creators of ArtTour International Magazine – offers a fresh perspective on contemporary art.
LEGACY distinguishes itself by transcending conventional exhibition norms, showcasing a rich diversity of artworks. The opening event of this exhibition was a notable occasion in New York's art calendar, marked by its refined elegance and a celebration of artistic endeavors. The attendees of the opening were left in profound awe, reflecting the impactful nature of the event.
The curatorial expertise of Viviana Puello and Alan Grimandi is evident in their selection of artworks for LEGACY. Each piece in the exhibition has been chosen for its ability to articulate the vast range and depth inherent in contemporary art. This careful curation has resulted in an assemblage that resonates with viewers, offering insights into the multifaceted nature of modern artistic expression.
LEGACY serves not just as an exhibition but as a significant cultural event, contributing to the ongoing dialogue in contemporary art. It is a testament to the enduring relevance and evolving narratives within the art world. The collection presents a compelling opportunity for visitors to engage with a variety of artistic voices and styles.
The exhibition is open to the public and is expected to draw a wide array of visitors, from seasoned art connoisseurs to those newly exploring the art scene. For additional information about the LEGACY exhibition and to learn more about the Grimandi Art Gallery, interested individuals are encouraged to visit www.grimandigallery.com.
Written by Nat Edwards
Nat Edwards
Creative Writer
+1 800-807-1167
email us here
Participating Artists


Article originally published on www.einpresswire.com as Art Reimagined: LEGACY Exhibition at Grimandi Gallery