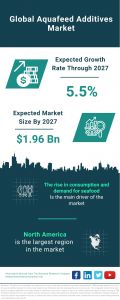 Aquafeed Additives Global Market Report 2023 – Market Size, Trends, And Global Forecast 2023-2032
The Business Research Company's Aquafeed Additives Global Market Report 2023 – Market Size, Trends, And Global Forecast 2023-2032
The market size of aquafeed additives is expected to grow to $1.96 billion in 2027 at a CAGR of 5.5%."
— The Business Research Company
LANDON, GREATER LANDON, UK, November 17, 2023 /EINPresswire.com/ — The global aquafeed additives market is projected to witness notable growth, expanding from $1.5 billion in 2022 to $1.58 billion in 2023, at a substantial compound annual growth rate (CAGR) of 5.8%. The market is expected to continue this upward trajectory, reaching $1.96 billion by 2027. This growth can be attributed to the rising preference for seafood as a primary protein source, coupled with an increased demand for exotic marine species like shrimp and oysters.
Seizing Opportunities in the Expanding Aquafeed Additives Market
Explore the sample report to gain a comprehensive understanding of the aquafeed additives market dynamics and emerging trends:
Key Segments and Market Trends
The market is segmented based on the source, ingredients, and application of aquafeed additives. Major players such as Aker Biomarine, Kemin Industries, and Nutreco NV are actively contributing to the market's growth through innovative product development. Emphasizing advancements in nutritional understanding and analysis of alternative raw ingredients, the industry is witnessing the development of water-stable supplements, organic minerals, and cutting-edge enzymes, among other advancements.
Segments:
• By Source: Animal, Microorganisms, Plant
• By Ingredient: Anti-Parasitic, Feed Acidifiers, Prebiotics, Essential Oils and Natural Extracts, Palatants, Other Ingredients
• By Application: Carp, Rainbow Trout, Salmon, Crustaceans, Tilapia, Catfish, Sea Bass, Grouper, Other Applications
Geographical Insights: North America Leads, Asia-Pacific Demonstrates Highest Growth Rate
North America currently holds the largest share in the aquafeed additives market, while Asia-Pacific is expected to exhibit the highest growth rate during the forecast period.
Dive deeper into the regional dynamics and trends in the complete report:
Aquafeed Additives Global Market Report 2023 from TBRC covers the following information:
1. Market size date for the forecast period: Historical and Future
2. Market analysis by region: Asia-Pacific, China, Western Europe, Eastern Europe, North America, USA, South America, Middle East and Africa.
3. Market analysis by countries: Australia, Brazil, China, France, Germany, India, Indonesia, Japan, Russia, South Korea, UK, USA.
Trends, opportunities, strategies and so much more.
The Aquafeed Additives Global Market Report 2023 by The Business Research Company is the most comprehensive report that provides insights on aquafeed additives market size, aquafeed additives market drivers and trends, aquafeed additives market major players, competitors' revenues, market positioning, and aquafeed additives market growth across geographies. The aquafeed additives market report helps you gain in-depth insights on opportunities and strategies. Companies can leverage the data in the report and tap into segments with the highest growth potential.
Browse Through More Similar Reports By The Business Research Company:
Aquaculture Global Market Report 2023
Aquafeed Global Market Report 2023
Reef Aquarium Global Market Report 2023
About The Business Research Company
The Business Research Company has published over 3000+ detailed industry reports, spanning over 3000+ market segments and 60 geographies. The reports draw on 1,500,000 datasets, extensive secondary research, and exclusive insights from interviews with industry leaders.
Global Market Model – Market Intelligence Database
The Global Market Model, The Business Research Company's flagship product, is a market intelligence platform covering various macroeconomic indicators and metrics across 60 geographies and 27 industries. The Global Market Model covers multi-layered datasets that help its users assess supply-demand gaps.
Contact Information
The Business Research Company
Europe: +44 207 1930 708
Asia: +91 8897263534
Americas: +1 315 623 0293
Email: [email protected]
Check out our:
LinkedIn:
Twitter:
Facebook:
YouTube:
Blog:
Healthcare Blog:
Global Market Model:
Oliver Guirdham
The Business Research Company
+44 20 7193 0708
[email protected]
Visit us on social media:
Facebook
Twitter
LinkedIn
Contract Furniture Market Growth Forecast 2023-2027


Article originally published on www.einpresswire.com as Aquafeed Additives Market Set to Reach $1.96 Billion by 2027, Driven by Increased Seafood Consumption