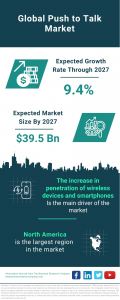 Push To Talk Global Market Report 2023
The Business Research Company's global market reports are now updated with the latest market sizing information for the year 2023 and forecasted to 2032
The market size of the global push to talk is expected to grow to $39.5 billion in 2027 at a CAGR of 9.4%."
— The Business Research Company
LONDON, GREATER LONDON, UK, November 9, 2023 /EINPresswire.com/ — The global push-to-talk market is projected to soar from $25.21 billion in 2022 to $27.57 billion in 2023, exhibiting a remarkable compound annual growth rate (CAGR) of 9.3%. Despite the disruptive impact of the Russia-Ukraine conflict on the global economic recovery from the COVID-19 pandemic, the market is poised to maintain its upward trajectory, with estimations forecasting a robust upsurge to $39.5 billion by 2027, at a CAGR of 9.4%.
Penetration of Wireless Devices: Catalyst for Market Growth
The escalating adoption of wireless devices and smartphones serves as a key driver propelling the push-to-talk market forward. The widespread proliferation of smartphones continues to advance, with the USA witnessing a penetration rate exceeding 50% of mobile handsets and a staggering 103% penetration rate with 325 million mobile subscriptions. This rampant expansion of wireless devices and smartphones is rapidly propelling the market.
Explore comprehensive insights into the global push-to-talk market with a detailed sample report:
Key Players: Leading the Communication Evolution
Major players in the push-to-talk market include American Telephone and Telegraph Company, Motorola Solutions, Inc., Qualcomm, Inc., Verizon Communications, Inc., Sprint Corporation, Bell Canada Enterprises Inc., Ericsson AB, Zebra Technologies Corporation, Azetti Networks AG, Kyocera Corporation, Zello, Inc., Simoco Wireless Solutions, Sonim Technologies, Inc., Mobile Tornado Group PLC., and Telstra Corporation Limited.
Emerging Technologies: Shaping the Communication Landscape
Evolving technologies are increasingly permeating the push-to-talk market. The introduction of advanced technologies such as 5G infrastructure and the LTE network has been instrumental in creating lucrative opportunities within the market. Furthermore, the integration of technologies such as the Internet of Things (IoT), Artificial Intelligence (AI), and natural language processing is reshaping the market. In March 2020, American Telephone and Telegraph Company (AT&T) unveiled its FirstNet Push-to-Talk (FirstNet PTT), a solution built on the 3GPP's mission-critical-push-to-talk (MCPTT) framework, enabling public safety personnel to utilize smartphones and specialized ultra-rugged devices for reliable, high-performance two-way radio communication.
Segments: Navigating Diverse Communication Needs
The global push-to-talk market is segmented as follows:
• End-User: Public Safety and Security, Transportations and Logistics, Government, Energy and Utility
• Technology: 3G, 4G, Wi-Fi
• Components: Hardware, Software, Services
Region: Mapping the Communication Landscape
North America dominated the push-to-talk market in 2022 and is expected to maintain its lead in the forecast period. The market analysis report encompasses regions such as Asia-Pacific, Western Europe, Eastern Europe, North America, South America, the Middle East, and Africa.
Access the complete report for an in-depth analysis of the global push-to-talk market:
Push to Talk Global Market Report 2023 from TBRC covers the following information:
• Market size date for the forecast period: Historical and Future
• Market analysis by region: Asia-Pacific, China, Western Europe, Eastern Europe, North America, USA, South America, Middle East and Africa.
• Market analysis by countries: Australia, Brazil, China, France, Germany, India, Indonesia, Japan, Russia, South Korea, UK, USA.
Trends, opportunities, strategies and so much more.
The Push to Talk Global Market Report 2023 by The Business Research Company is the most comprehensive report that provides insights on push to talk market size, push to talk market drivers and trends, push to talk market major players, competitors' revenues, market positioning, and market growth across geographies. The push to talk market report helps you gain in-depth insights on opportunities and strategies. Companies can leverage the data in the report and tap into segments with the highest growth potential.
Browse Through More Similar Reports By The Business Research Company:
Chatbot Global Market Report 2023
Voice Assistant Application Global Market Report 2023
Voice Biometrics Global Market Report 2023
About The Business Research Company
The Business Research Company has published over 3000+ detailed industry reports, spanning over 3000+ market segments and 60 geographies. The reports draw on 1,500,000 datasets, extensive secondary research, and exclusive insights from interviews with industry leaders.
Global Market Model – Market Intelligence Database
The Global Market Model, The Business Research Company's flagship product, is a market intelligence platform covering various macroeconomic indicators and metrics across 60 geographies and 27 industries. The Global Market Model covers multi-layered datasets that help its users assess supply-demand gaps.
Contact Information
The Business Research Company
Europe: +44 207 1930 708
Asia: +91 8897263534
Americas: +1 315 623 0293
Email: [email protected]
Check out our:
LinkedIn:
Twitter:
Facebook:
YouTube:
Blog:
Healthcare Blog:
Global Market Model: https://www.thebusinessresearchcompany.com/global-market-model
Oliver Guirdham
The Business Research Company
+44 20 7193 0708
[email protected]
Visit us on social media:
Facebook
Twitter
LinkedIn
YouTube
Sports Market Growth Forecast 2023-2027


Article originally published on www.einpresswire.com as Analyzing the Global Push-to-Talk Market