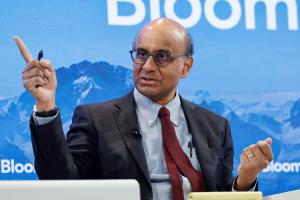 "Singapore is a multiracial country, with 75% Chinese. Four official languages – Mandarin, Malay, Tamil, and English."
SINGAPORE, SINGAPORE, September 3, 2023/EINPresswire.com/ — Mr Tharman Shanmugaratnam, the 66-year-old former deputy prime minister, comfortably defeated two other candidates in a hotly contested election for the 9th President of Singapore. He got 70.4 per cent of the vote, while Mr. Ng Kok Song and Mr. Tan Kin Lian received 15.72 per cent and 13.88 per cent, respectively. Watch: https://youtu.be/3jiL_M5MMwo
Mr. Tharman Shanmugaratnam is of Sri Lankan Tamil origin from the Northern Jaffna district. He is a son of Emeritus Professor K. Shanmugaratnam, a medical scientist known as the "father of pathology in Singapore".
Singapore is a multiracial country where Chine makes up of 75 percent of the population and the rest consists of Malays and Indians who are mostly Tamils. There are four official languages in Singapore: Mandarin, Malay, Tamil, and English.
Addressing the media at Taman Jurong Market and Food Centre, Mr Tharman said he was "humbled by the strong endorsement that Singaporeans have given to me". He also thanked his fellow candidates for making the presidential election a worthy contest.
"I will honour the trust that Singaporeans have placed in me and respect all Singaporeans for the views they've expressed," he said. "It has to be a future in which Singapore is never treated as just another small country, a future where we are taken seriously in the world, we are a partner of choice, and where we can project our voice of reason internationally," he said.
Tharman is also a member of the Board of Trustees of the World Economic Forum (WEF). In addition, Tharman is a member of the United Nations Secretary-General's High-Level Advisory Board on Effective Multilateralism, that will make recommendations on Effective Multilateralism for the UN Summit of the Future in 2024. He also chaired the International Monetary and Financial Committee (IMFC), the policy advisory committee of the International Monetary Fund (IMF), from 2011 to 2014, becoming the first ever Asian chair. In addition, he co-chaired the Advisory Board of the Human Development Report (HDR) of the United Nations Development Programme (UNDP) from 2019 to 2022.
Asia News
AN
email us here
Article originally published on www.einpresswire.com as A Sri Lankan Tamil Origin from Jaffna Elected as the Next President of Singapore