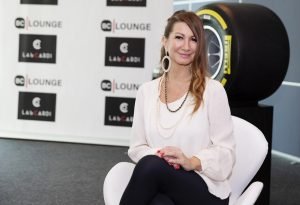 Barbara Cardilli, CEO of LABCardi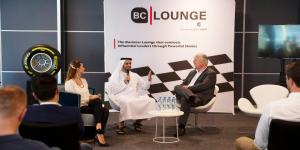 H.E. Marwan Al Sarkal, Managing Partner, Chapter 3 LLC & Eric Mark Huitema, Chairman advisory board, Brussels Auto Show
Cristina Guida La Licata, Head of Marketing & Communications Jeep ME of Stellantis; Patricia Preysler, Account Executive, Retail & FMCG of Salesforce; Barbara Cardilli; Anastasia Sikacheva, Area Strategy Director EEMEA of AbbVie; Marion Englert, a Global
LABCardi in Dubai Autodrome Circuit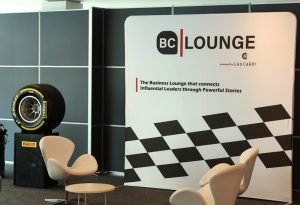 BC Lounge by LABCardi
DUBAI, UAE, November 8, 2023 /EINPresswire.com/ — Barbara Cardilli, the soul and nature force behind BC Lounge did it again, she rocks the Autodrome with very VVIP guests.
In the world of business and innovation, collaboration often leads to groundbreaking developments. The recently concluded event last November 4th, 2023, at the Dubai Autodrome Circuit in Motorsport City, is a testament to the power of partnerships. BC Lounge and Automadness Dubai came together to host an event that brought together influential leaders, CEOs, decision-makers, stakeholders, entrepreneurs, and innovators from various industries, including automotive, technology, AI, finance, and lifestyle while enjoying a ride with their cool cars and a drifting experience by night.
Bringing Leaders Together
BC Lounge is now wellknown for connecting leaders who are pushing boundaries, achieving their goals, and making a significant impact in the UAE's market and society. From vision to reality, BC Lounge welcomes those who look to the future with positivity and resilience while creating new opportunities in technology, digital transformation, and innovation.
Again, Barbara Cardilli, the visionary Founder & CEO of LABCardi, is at the helm of this venture. With a wide background in Commercial Strategy Management, she's shaped the trajectories of prestigious companies, including Giorgio Armani Hotel and Formula 1 Abu Dhabi Yas Marina Circuit. Her experience in negotiating globally acclaimed events underscores her profound ability to orchestrate impactful gatherings that catalyze changes. This exclusive event was graced by over 40 successful, influential leaders, CEOs, decision-makers, entrepreneurs, and innovators from the automotive, technology, AI, finance, and lifestyle industries.
The first guest to take the floor was Alex Winkler, Senior Commercial Manager of Aspire – A2RL Racing Series who shared the news from his company:"What the company has done essentially was 20 super formula cars from Japan was actually not updated anymore. We stripped every element of that vehicle and we replaced it with AI actuators which then an AI can end up powering." So the future is here, changing forever the old way to do business in ordervto win competitiveness.  
Joining the guests on panel BC Lounge's Founder & CEO of LABCardi, Barbara Cardilli where sharing with us her WHY: "I am grateful for this platform. I wanted to build my tribe. And in my tribe, I decided to welcome only who makes an impact on me, who makes me better and makes you better. And I'm really hopeful that today, you go home with a little memory and you go home better, just a little bit."
In the subject of leadership, Mr. Kumar Neeraj, Managing Director of Stellantis recounted, "The most important point I would say is how you are as an individual first. I had a full paralysis when I was 3 and I was paralyzed for one year. I could not walk … I kind of grew up with a lot of insecurities. I discovered a skill which I never knew and it was climbing mountains. And it inspired so many people." And now "be inspired, inspired others, resilience are the main traits of my experience".
About overcoming challenges, some practical tips from advised by Tarek Kashef, inspiring Area Director Finance of Four Seasons Hotels & Resorts with regards to challenges of being a leader."Do not write an email at three o'clock in the morning, because that's what I did. So, did I learn? I learned a lot, and I pass it on to young leaders. But, did I stop? I'd be lying if I say, I stopped, but I didn't send it. So when I'm angry, I write an email and still, then I keep it. I keep it in the draft. I hate it when I can't let it go, so I just get it out", so managing emotions is so important too. Moderated by Patrizia Marin, Founder/CEO of Marco Polo Experience, she also shared, "Authenticity, commitment. And then we have a kind of everyday activities that is being the best you can be like through food, through training and through being reliable."
Amazing ladies rochet the "Women at the Driver's Seat", sharing their own inspiring stories as leaders in their own industries. Cristina Guida La Licata, Head of Marketing & Communications Jeep Middle East of Stellantis shared, "Back in 2022, decided in the occasion of the International Women's Day to create what is called Women of Stellantis, which is the very first global network, consisting 5,300 women in 37 countries and all departments are actually represented. And I've been honored to be a part of it."
"It starts with strategy. You need to have a vision." Anastasia Sikacheva, Area Strategy Director EEMEA of AbbVie
"And also the people I worked with, mostly men, were inspiring leaders. So I always had somebody to mentor me, to trust in me, to let me run. And this is what I said, I want to give back. I also want to be this inspiring leader. I want to be the person who empowers me," said Marion Englert, a Global E-Commerce Strategy & Marketing Consultant of Group Lotus.
The event pressed on with more thoughtful leaders who shared their experiences and insights regarding leadership, technology & racing.
Eric Mark Huitema, Chairman advisory board, Brussels Auto Show shared, "Connecting cars and making sure that the cars were anticipating what the driver's behaviors would do, which is used in Formula One, is now used currently on the streets in the cars that we all drive.So that was a very important start."
And H.E. Marwan Al Sarkal, Managing Partner, Chapter 3 LLC also recounted an unforgettable lesson he learned, "I took a course in Harvard several years ago, and we studied something called authentic leadership. I love the way of how they describe leadership. They said, 'It's about disappointing people to the amount that they can absorb to achieve your goal.' I was shocked, you know. It took me a couple of days to actually grasp it in and digest it. I really think that leadership is a practice. And we all practice leadership in a different way."
Talking about Speed of Business, from the past to the future, we had two very interesting qualified points of view. Wajih Yahyaoui, Chief Executive Director of BlackStone eIT shares a reality in companies when he said, "I totally agree with all what they said and they're very inspiring. But the more you go up, the more you look at people as numbers. You remove the empathy part. It's about revenue; it's about making results. And within a meeting you can shut down huge businesses, huge ecosystem because it does not exist number-wise." And in the same direction Haris Mumtaz, Marketing Head and Growth, Ghassan Aboud Group, "Providing valuable services, using the 21st century principle of reliability, sustainability, digital transformation, and customer centricity, the Group consists of several companies operating in some of the most important industries in the region and internationally in major global economies, enabling the opportunity to enhance millions of lives every day."
Concluding the panel session were incredible women who spoke about what it's like to be "Women in Tech."
Tannya Jajal, Founder of AIDEN shared some powerful insights, "I always say this to anyone,  especially to younger people who ask me,  'How do I become an influential young thought leader like you did?'  And I always say,  the only way to give yourself the confidence to continue to do that is to make sure you find something that you really care about and you're actually passionate about. And I still felt moments of doubt. And I think that's normal, that's part of the human experience, but here's where being a multidisciplinary really works or really helps."
Then another point of view:"The percentage of women in the functions that I led was 7-8% and that includes engineers, that includes risk experts–not just HR and marketing. I think I have such a deep feeling of frustration with thinking that women are mostly meant for soft skill talent." expressed by the COO of Magnati, Isabela Ududec, followed by the session's moderator, Heba Sayed, a Marketing & Executive Branding Consultant wrapping up the program when she said, "I think it takes listening. It took me some listening in the beginning from people around me who told me 'You can do it!'"
This unique was surely a convergence of thought leaders, innovators, and influencers, providing a platform for meaningful discussions, networking, and the exchange of ideas in these dynamic industries. It was aimed to create ripples of innovation and inspiration in the business world, leading to new opportunities and collaborations.
Check out some of the event highlights here:
Stay tuned as Barbara Cardilli will surprise you again with a new unbelievable gathering of top-notch leaders in her BC Lounge. Big news coming soon!
Patrizia Marin
Marcopoloexperience FZ LLC
56 800 3394
[email protected]


Article originally published on www.einpresswire.com as A Powerhouse Gathering for High-end Leaders and Passionate People